David Dubal on the Piano as a Passion: A Lecture at Steinway & Sons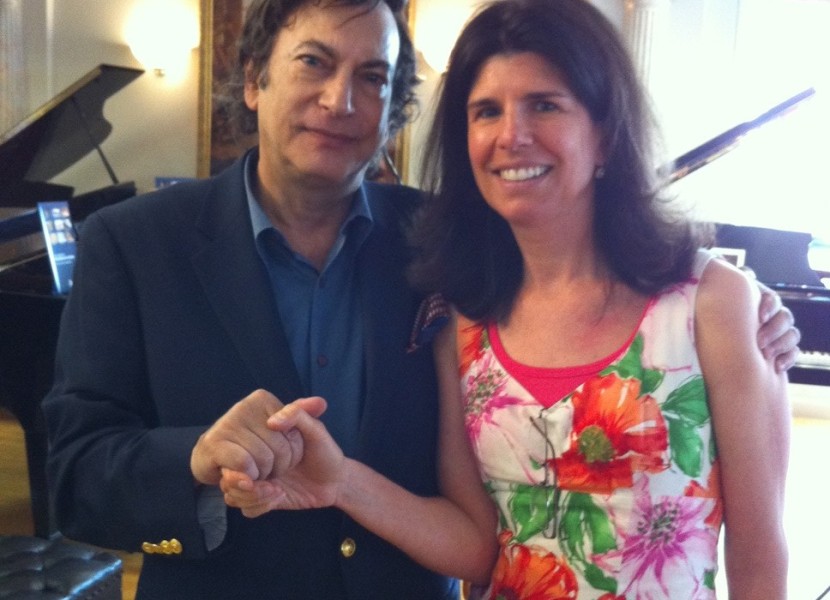 On August 18th, David Dubal delivered inspiring words to a group passionate about the piano.
The occasion was a lecture held at the Steinway Piano Gallery in Paramus, New Jersey. Dubal—accomplished pianist, Julliard professor, radio show host, book author on the history of composers and classical piano music, and all-around-intellectual on matters piano—drew a large, enthusiastic crowd, mostly of piano teachers. My teacher Stephen and I sat with about one hundred people packed in folding chairs arranged in front of a Steinway D.
Dubal, dressed in a natty blue blazer with a dotted red silk handkerchief in his breast pocket, was in full form. His sonorous voice, famous for interviewing Vladimir Horowitz, had the dynamics of a good Chopin prelude, sometimes forte in his declarations, other times pianissimo to underscore a point. Occasionally, his black eyebrows jumped up for emphasis.
The topic of the lecture was the Romantic composers Chopin and Schumann. Dubal enumerated some similarities (both were born in 1810, both made a devoted study of Bach), but mostly their polar differences. Schumann could not approach Chopin's innovations with harmony, Dubal declared. He described Chopin as "the greatest pattern-maker of Western music," musically as well as visually, evident in the "exquisite calligraphy" of his original manuscripts. '
As interested as I was in the composers, the part of Dubal's lecture that most captivated me were his thoughts on living a life devoted to the piano. You're not happy—one of the worst words in America, he added—so much as you are blessed. Like many who squeeze adult piano lessons into a schedule loaded with commitments, then snatch practice time, in fifteen minute increments if required, sometimes I question my piano passion.
"You can walk in the paradise garden any day you want, with Mozart, Chopin, Bach," Dubal told us, his eyes searing the crowd. "There is perfection in the world." His assertion placed me in the moment of cracking open my book of Chopin preludes, immersing myself in the black notes sprinkled across the page, and wandering in the music's harmony. Practicing often takes me to a hallowed place of utter calmness.
Several times Dubal used the word pianism, a word I could not recall being spoken by any in my pianistic circles. Pianism has two meanings according to the Oxford English Dictionary:
1. The art of composing or arranging for the piano
2. The art or technique of playing the piano
Most of the time Dubal used pianism in its second sense, the art of playing. Smitten by classical piano music, he counseled those of us similarly consumed on the importance of allowing for time to gain technique and repertoire. "You never come to anything until you're ready for it," he said, a pithy maxim that helped explain for me how I could have allowed my piano passion to lie fallow for twenty-five years until I returned to adult piano lessons shortly after my forty-first birthday.
Now that I have resumed my journey towards pianism, meeting David Dubal, a guide at one of the way stations, was most welcome.
Copyright © 2018 Nancy M. Williams. All Rights Reserved.