Hearing Aids at My Piano Recital
How My High-Frequency Hearing Loss Came into Play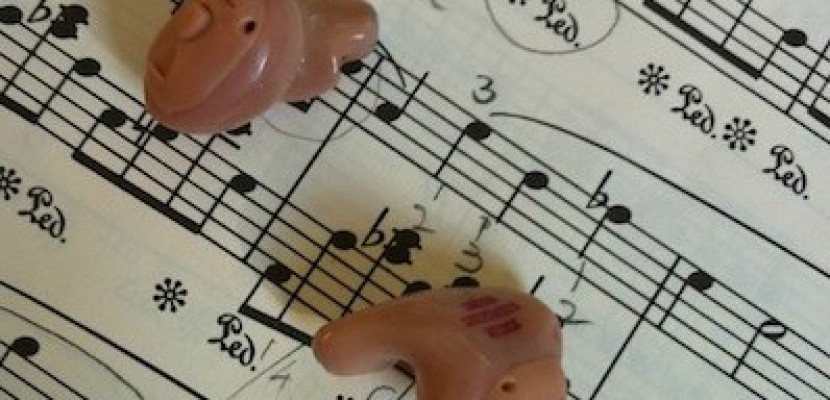 T
he fact that I wear hearing aids became immediately obvious to 200 spectators at a student piano recital in May.
Although I like to arrive early for recitals, on that day my family and I scrambled for the last available seats in the back row of the recital hall just as our instructor, Stephen, strode to the front of the room to announce the program. The recital was being held at Crane's Mill Retirement Community in New Jersey as part of their spring program. The room was packed with students, their parents, and grandparents, along with residents from the retirement home.
While I thought of my hearing loss as part of my normal makeup, others saw me as handicapped or deficient.
I felt flustered. By arriving late, I had deprived myself and my daughter, Mena, who was also performing, of the chance to try out the piano. Even worse, we were forced to slum in the back row. Perhaps because of my hearing loss, I've always been a front row kind of person. It's much easier to hear up there.
I scanned the program. None of Stephen's other adult piano students were performing. One of the discomforts of being a student of adult piano lessons: seeing my name in the program amidst a sea of kids aged 6 to 16.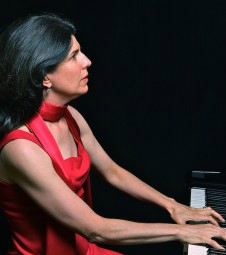 I was to perform the Chopin Raindrop Prelude. A week before, I had performed this Chopin Prelude at an amateur concert in New York City. One of the dreadful "what if" scenarios that haunted me as I prowled backstage, then plopped down in a chair and tried to breathe deeply, was that I would forget to activate my hearing aid's music setting. Before I strode out onto the stage, I had pressed the external button on my aids no less than five times.
My Widex Inteo hearing aids had a setting especially designed for people who play an instrument. The music setting gave equal weight to the treble and bass, crucial for balancing sound, and also eliminated the suppression feature, useful if a loud truck rumbles by on the street but asphyxiating when applied to forte chords. Occasionally when I adjusted my aids in public, acquaintances seemed alarmed, as though I had a malady that made them cringe but of which they were far too polite to register notice. I realized that while I thought of my hearing loss as part of my normal makeup, others saw me as handicapped or deficient.
At last my turn on the program at Crane's Mill arrived. I was supposed to announce my name and my piece's title, but the microphone stood at three feet, an optimal height for my far younger and shorter co-performers, and I did not know how to adjust it. It did not occur to me to ask for help. I had to lean down so far it looked as though I were about to do a yoga pose.
"All I can say about being the only adult on this program," I said into the microphone, my neck craning upwards to make eye contact with the audience, "is one of these things is not like the other!" The audience laughed.
Something's wrong, I realized after only a few bars, the piano sounds dull, flat, stripped of sound.
I struck the opening notes to the Chopin Raindrop Prelude, a high F in the right hand, a low D-flat in the left. Something's wrong, I realized after only a few bars, the piano sounds dull, flat, stripped of sound. Had the severe dryness of the winter warped the piano's soundboard? Had my hearing loss suddenly worsened?
I had forgotten to turn my hearing aids to the music setting.
Adrenaline coursed within me as I tried to decide how to cope. I could not activate the music setting without removing my hands from the keyboard. I could try to fake my way through without hearing the piano's full richness of sound, but my throat constricted at the prospect. When my pinky reached for a low A-flat in the bass, I twanged the wrong note.
I stopped playing. I stood up from the piano, and, as I walked towards the microphone, I pressed the external button on both aids. Ahhh, the long-awaited, two perky beeps in my ears, signifying the music setting. I leaned down towards the microphone. "I wear hearing aids," I said to the audience. "I just realized that I forgot to put them on the music setting. I'm going to try again."
A sprinkling of clapping: I felt heartened by this gesture of support from the audience. Yet why had I felt compelled to inform everyone of the glitch with my hearing aids? I had broken a cardinal rule of performance, to hide your mistakes.
Yet the case of my hearing aids seemed different. Perhaps I was making a declaration: even though I suffer from a high-frequency hearing loss, I enjoy classical piano music, I take adult piano lessons, I am serious about my practice, I can perform this Chopin Raindrop Prelude in a moving way. I played through the Raindrop Prelude's dreamy opening, the angst of the thunderous rain storm, and finished with the rain's aftermath, drenched yet hopeful.
Copyright © 2018 Nancy M. Williams. All Rights Reserved.