Why this Student of Adult Piano Lessons Wished for a Chinese Father but Became a Western Mother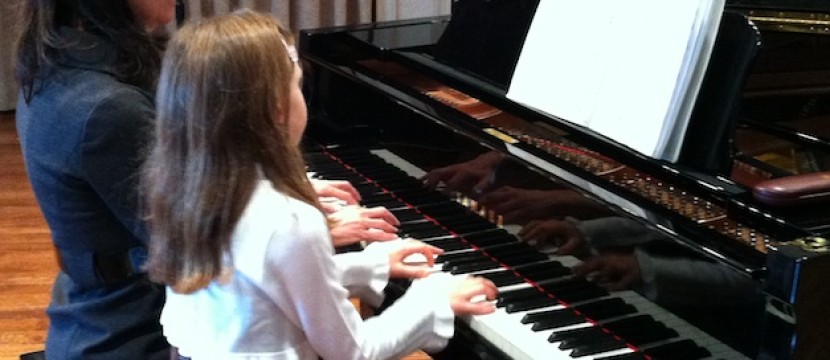 Somewhat eerily timed with the Chinese mother debate, my daughter, Mena, and I had a piano recital this past Saturday.  Rather than performing at Carnegie Hall, where Chua's daughter Sophia played in 2007, we were both on the docket at Crane's Mill Retirement Community in West Caldwell, New Jersey.  I performed Chopin's Nocturne in C-sharp Minor and Mena performed two selections from her Piano Adventures book.
While I am strict when it comes to academics–Mena's grades are excellent–with the piano I would no doubt qualify as Chua's Exhibit A for the Western mother.  Although Mena began lessons she was three years old, I allowed her to take two extended breaks of almost a year each.  As for Mena's practice regime, I require her to practice her songs only three times each, which adds up to less than a half-hour a day.
When it comes to extracurriculars, my philosophy is that children will gravitate towards and eventually excel at their passions, as long as they are encouraged and nurtured.  While I did not begin piano lessons until I was eleven, I immediately fell in love with the piano.  Yet I had the opposite problem of most children in that I could not get enough practice time.  For reasons that I still do not fully understand, my father could not stand the sound of my music.  Dad's struggle with alcoholism certainly played a supporting role in his behavior.  How welcome it would have been for a Chinese mother to storm my house, inform my father he was garbage, and then convince him to enroll in Alcoholics Anonymous.  My story with the piano, including my progress with adult piano lessons today, would have turned out much differently.
But my story is different than Mena's.  My daughter does have her passion, but rather than the piano, it is cooking and baking.  She takes weekend cooking classes with my husband, a fund manager who is a trained chef, she is drafting her own cookbook, and she has this uncanny ability to recognize gastronomic flavors.  For Mena, the piano is enjoyable and also has turned out to be a mother-daughter past time.  When her practice book calls for a duet, I often play the teacher's part at home.  Snuggling next to my daughter on the bench, swaying in time with her to the beat, and singing the silly lyrics is for me one of the highest orders of bliss.
One of the two songs that Mena and I performed this past Saturday at Crane's Mill was a duet called Pirate of the North Sea.  The two of us had rehearsed that piece until we could have played it in our sleep.  Amy Chua and the coalition of Chinese mothers would have been proud to know that our performance was flawless.
Copyright © 2018 Nancy M. Williams. All Rights Reserved.