New Discoveries: Listen to This
A Student of Adult Piano Lessons Encounters Schubert and Radiohead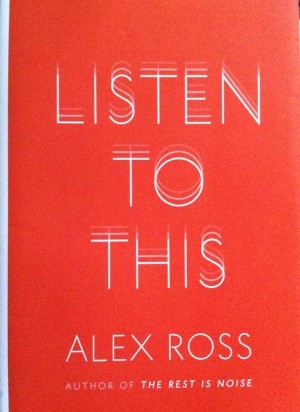 I
am a white American male who listened to nothing but classical music until the age of twenty
, declares
Alex Ross
in the opening essay of
Listen to This
. Having summoned our attention, Ross goes on to explore a smorgasbord of music that "engages the mind." In a series of essays, he describes music that crosses geography (for example, contemporary composers from Guo Wenjing in Beijing to
John Luther Adams
in Alaska), as well as time and genre (Verdi's 19th century operas versus Kurt Cobain's grunge music).
Admittedly, Listen to This strays beyond this online magazine's focus of classical piano music and the experiences of students of adult piano lessons. Yet I have selected the book for my March pick because it broadened and deepened my musical knowledge. And perhaps most importantly, in the eclectic cuisine Ross serves, his prose is like a secret ingredient of saffron. The music critic for The New Yorker and a Pulitzer Prize finalist for his 2008 book, The Rest is Noise, Ross is one of today's most inventive and luminous music writers.
The piano does make several cameos in Listen to This. Ross took piano lessons throughout his teens. In the essays on Schubert ("Great Soul") and Brahms ("Blessed Are the Sad"), he waxes not only on these Romantic composers' orchestral works, but also dips into their piano compositions, specifically Schubert's Piano Sonata in B-flat Major and Brahms's Intermezzos. Ross writes that although biographies of Schubert seem to miss the essence of the composer, the music has a tremendous immediacy:
I remember playing through the first movement of the great Piano Sonata in B-flat and physically trembling as the main theme stole back onto the page, one octave higher, like a handsome ghost of itself.
And then there are the essays on Bob Dylan, Björk, and Radiohead. Ross describes Radiohead as "the most slavishly imitated band of the modern era," yet in an unintended parallel with the ghost of the teenaged Ross, I had only a vague inkling of the band's existence. The word radio in the name provided an important clue that the group is associated with music.
Intrigued by Ross's description of Radiohead's songs as containing the same "harmonic DNA" as classical music, and charmed by bassist Colin Greenwood's description of the band as "the E. M. Forster of rock," I logged onto YouTube. I liked "No Surprises," the swaying beat, the chiming tones, even the electronic pealing of an F major broken chord in the high treble (I confess that my piano teacher identified the key as F major).
While I registered that I actually liked this music, my son, Cal, wandered by. For his 11th birthday a few weeks before, I had purchased for him an iPod shuffle, and he now sauntered around the house with earphones dangling from his ears like spaghetti strands. "What are you listening to?" he asked.
"I'm just checking out some Radiohead," I said, savoring this unusual moment to be cool.
"Hmm." He cast me an appraising glance, as though he might need to recalculate my hip quotient.
I decided to download the band's album to my iTunes account. "No alarms and no surprises," crooned Thom Yorke, Radiohead's singer, yet Listen to This had been chock full of surprises. I realized I had responded in exactly the way Ross had hoped when he extolled, Listen to This.
A sampling of the music described here: first the Russian pianist Olga Domnina playing the first movement to Schubert's Piano Sonata in B-flat . . .
then Radiohead's classic, "No Surprises," performed live in 1997:
Copyright © 2018 Nancy M. Williams. All Rights Reserved.