Placing Debussy into Context for This Student of Adult Piano Lessons
A Review of The Life of Debussy by Roger Nichols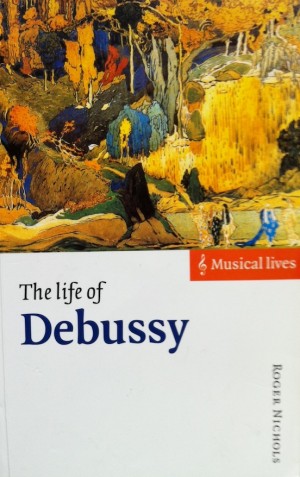 Y
ou could say that I've entered a Debussy phase in my quest for classical piano music. A few weeks ago in my adult piano lessons, I began work on 
Debussy's First Arabesque
, a piano piece that first captivated me a few years ago after I heard a friend perform it at church. I liked the how the twinkling melody tumbled from the keys. The Reverie has long been a favorite of mine, revived during my adult piano lessons after I first learned the music when I was 12. At some point later this year, I'd like to learn
Clair de Lune
from Suite Bergamasque. For readers also smitten by Debussy who wish to place the composer's piano music into the context of his life, I recommend
The Life of Debussy
by Roger Nichols.
This slim volume, all of 167 pages before the notes, and part of Cambridge University Press' Musical Lives series, traces Debussy's composing as well as his personal life from birth through death. Thanks to Nichols's well-constructed and matter-of-fact prose, the book is a smooth read. Nichols explains that although today Debussy is primarily remembered for his piano music, he was "slow to find his own style in the medium." The Two Arabesques, for example, while melodious, barely hint at the revolution Debussy was to create in classical piano music.
Unlike the stylized biographies published in the last decade, Life of Debussy does not read like a novel: Nichols rarely speculates on what Debussy may have been feeling in a particular situation. In that sense, the book has a more factual feel. Yet Nichols makes liberal and skillful use of Debussy's letters, allowing Debussy in effect to speak for himself.
Debussy was an incisive and colorful correspondent with a sardonic, sharp sense of humor. In one of my favorite passages, he wrote to a friend early in his career of his financial difficulties and struggles with creditors: The various lessons I rely on for my daily bread have gone off to the seaside, without a thought for my domestic economy, and the whole thing is a good deal more melancholy than all the Ballades of Chopin.
The portrait that emerges of Debussy was a complex person. On the one hand, he deserted his first wife, the ravishing Lilly Debussy, to marry his new love, Emma Bardac. In response to losing Debussy, after expending so much energy protecting his composing, Lilly shot herself. She lived, but many of Debussy's friends, disgusted by the affair, deserted him. Yet Debussy was gentle and sympathetic to animals and children. To his daughter, nicknamed Chou-chou, he was attentive, relishing her toys in the nursery as much as she.
This dichotomy between ethereal, child-like play and callousness is reflected in his music. Nichols concludes in his final Envoi chapter that "it has been perhaps the chief curse of the label 'Impressionist' that has led people to concentrate on the delightful surfaces of Debussy's music and to miss its rough, dangerous, even cruel undercurrents."
Yet it seemed that Debussy in part redeemed himself by possessing a modicum of self-awareness. He confessed to a friend: whatever masks you wear, underneath you find yourself.
Roger Nichols is well known as a writer and broadcaster in the U.K. He has edited and translated a volume of Debussy's correspondence, Debussy's Letters. His latest book, Ravel: A Life, was published by Yale University Press.
Copyright © 2018 Nancy M. Williams. All Rights Reserved.