Leya Evelyn, an Abstract Painter, Takes Adult Piano Lessons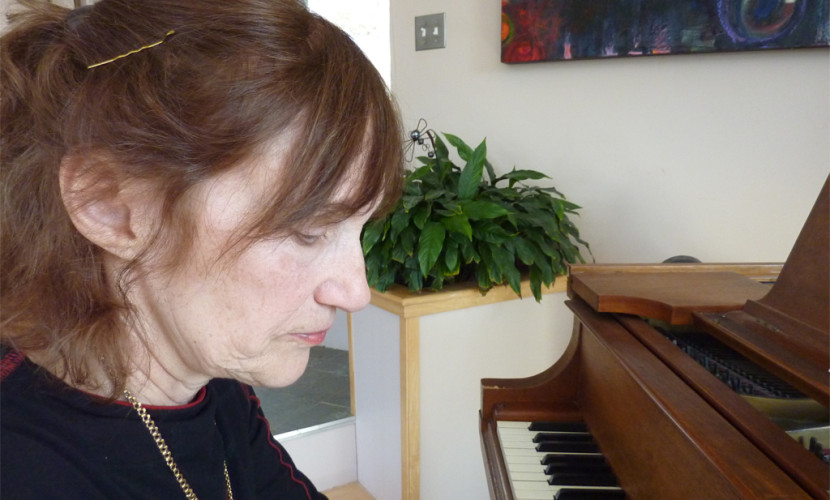 In this month's profile, we meet Leya Evelyn, an abstract painter who has studied classical piano music for most of her life. In an exclusive interview, she shares the effective practice habits she gleaned in her adult piano lessons, as well as her changing attitude towards performing.
Name: Leya Evelyn
Profession: Abstract Painter
Favorite Piece to Play: Mozart Fantasia and Sonata in number 18 in C-minor
Aspiration: Improvisational Jazz
Tell us about your piano study during your childhood.
I started playing the piano when I was eight, on an upright Baldwin, but then when I was twelve my parents bought me a 1925 Steinway for $950. I contributed $40 of that from my savings. I was very frugal in those days, and I like to think that I bought Middle C.
Unfortunately, most of my teachers were quite strict and a bit sadistic. I had one teacher who grabbed me by the elbow and squeezed hard when I made a mistake. But I never stopped. I loved playing the piano. I studied for a short period with Pete Seger's stepmother, whom I liked very much, but my parents didn't care for her because she was encouraging me to improvise. I got my parents in the end because now I'm an abstract painter!
I took lessons right through Brown University, where I majored in Literature. I took a composition class where we learned to compose in the style of Bach. I loved it so much I was considering changing majors.  I had to play in the recital in order to take music for credit.  My teacher chose a Mendelsohn piece, and I didn't have the courage at that time to say that I didn't like the music.  It was really boring—the same thing over and over again.  The second time I played Claude Debussy's Girl with Flaxen Hair and the two Arabesques, and they were beautiful.
After you graduated from Brown, did you continue your study of classical piano music with adult piano lessons?
Yes, I continue to play to this day, although I did go through periods where I didn't play for a few years. When my kids were little, I would practice two hours a day. My daughter would do her play, and I would do my play. These days I practice a half hour to an hour a day. I have to schedule playing, similarly as I schedule painting. I say, after dinner, I will practice.
For a while, I studied with a piano teacher who liked to teach adults. I took lessons every two or three weeks for a couple of years. I just wanted to play. I didn't want to study the music.  She helped me learn how to practice better. Now I  learn music measure-by-measure, first hands separately, then hands together, just go over a section until you know it.  We had very different taste in music. She tended towards more of the flowery pieces, Romantic music, and I really like Baroque and Classical. But she helped me with Mozart Fantasia, which I was very grateful for.
I also took some jazz lessons for a couple of years. I had a couple of teachers, but I felt that I failed at learning how to improvise. I wrote about that experience in my blog. When I felt like I had failed at jazz, I began to realize that my painting is improvisation, and that's maybe all I can do.
You are a well-regarded abstract painter in Nova Scotia, Canada, and you create large canvases with rich colors. What relationship does your piano passion have with your art career?
I've been told a lot that my painting is like music. Music is abstract, and the kind of music I prefer is without a storyline. I don't like being too literal with the music, and I certainly don't like having images in my painting.
What about performing your classical piano music?
I play classical duets with friends and neighbors. My favorite friend is a musician who studied music school in Japan, and she teaches piano and saxophone. We have played Satie, some Dvorak, and Pachelbel's Canon, which we performed for her students.  We just started some Debussy, Petite Suite, which is nice because it was originally written for four hands.  It's almost like having a private teacher.  Playing duets has helped me with sight-reading and timing.
But in general, I really have been terrified to play in front of people. It's something I think I need to face before I croak! As you get older, you get more aware of what you did and didn't do. A few years ago, if someone came over, and asked me to play, I usually would say no. Now I say yes. I'm forcing myself because I think it's a part of growing. That's the reason we're on earth.
Copyright © 2018 Nancy M. Williams. All Rights Reserved.