From 9/11 to Classical Piano Music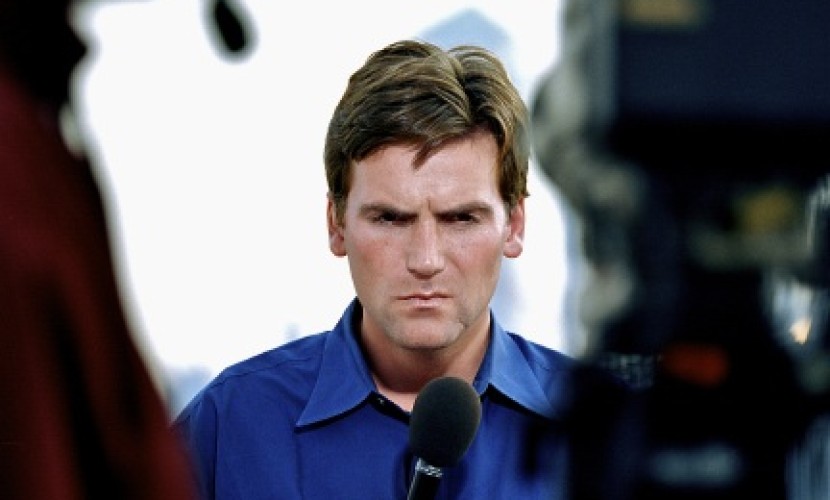 Frank Schramm, the gifted portraitist and fashion photographer who did the photography for this website, has commemorated the tenth anniversary of September 11 in an original and moving exhibition, In Shock: Reporting Live from Ground Zero.
In the weeks following September 11, Schramm set up shop on the West Side Highway near Canal Street, close to Ground Zero, where he photographed scores of broadcast news correspondents.  The collection shows women and men with sorrow, confusion, and helplessness on their faces as they prepared to relay news or even as they spoke into the camera.  In the background is often empty space, the missing twin towers of the World Trade Center. Taken together, the portraits are drenched in emotion.
In the photograph shown here, perhaps my favorite in this stirring collection, Fox News Channel correspondent Jeff Goldblatt stares down at the sidewalk with
Photo by Frank Schramm.
a crease of anxiety above his right eyebrow in the moments before going on air.  I love how the cameraman's face and the videocamera, blurred from their proximity to the viewer, frame Goldblatt in his private moment of mourning.
In addition to his September 11 commemoration, among many (his work is in museums around the world, including the Met), Schramm has photographed George Walker, a composer, pianist, and the first African-American Pulitzer Prize winner in Music.
Schramm's familial links to classical piano music run deep.  His mother was a trained concert pianist and his wife, Patricia Schramm, President of the American Swiss Foundation, studied piano intensely through college and is an accomplished amateur pianist.  The Hamburg Steinway B in their home was a gift during her childhood from her father, Ulrich Meyer-Schoellkopf, a conductor and the former director of the Lucerne Music Festival.  David Dubal, the concert pianist and Julliard professor whom I had the pleasure of profiling, is a staunch fan of Schramm's photography.
I first met Frank Schramm when one of his daughters was in Mena's second grade class.  The two girls became close friends, and at a school holiday party, I watched Frank shoot rapid-fire photos of our daughters with a look of utter concentration on his face.  Even seeing him at work with a simple digital camera was electrifying.  The fact that Frank agreed to do the photography for this website was one of the blessings I received when I decided to blog about my experiences taking adult piano lessons and my passion for classical piano music.  His work may be seen throughout this site, in various posts.
Schramm offers a gift to the world at large with his fresh perspective on 9/11, a day that few of us had anticipated, a day which caused us to wonder whether our world would ever be the same.  A decade later, most of us have been fortunate enough to return to our everyday lives, in which small pleasures like adult piano lessons enrich us.  The power of In Shock is that it takes us back to that time of intense grief, and yet also reminds us how lucky we are to be American and alive.
Copyright © 2018 Nancy M. Williams. All Rights Reserved.