Broadway's Beethoven Composes Despite Hearing Loss
Meeting Deaf Composer Jay Alan Zimmerman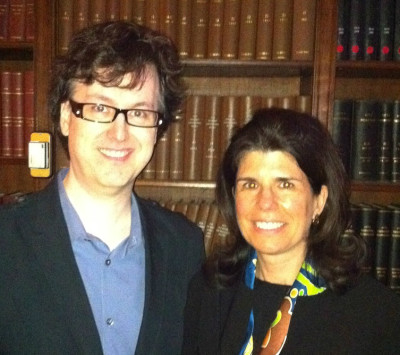 A
s I rode up the cramped, old-fashioned elevator at the New York Academy of Medicine, apprehension fluttered within my stomach. Attending a reception for the Hearing Restoration Project, I was to meet
Jay Alan Zimmerman
. Known as Broadway's Beethoven, Jay is profoundly deaf to all sounds above middle C. Although I have a
high-frequency hearing loss
for which I wear hearing aids in both ears, I do not know sign language. I worried that, with the chatter at the reception making for some tricky background noise, we would be unable to communicate.
Earlier in the week, Jay had told me in an email that his hearing began to deteriorate with a high-frequency loss in his late 20s. Like Beethoven, during his childhood, Jay's hearing was normal. His mother, a music theory professor and piano teacher, had Jay classically trained on the piano. "One of our favorite activities," Jay told me, "was to sight-read piano duets, playing as fast as possible."
Jay's mother was diagnosed with Alzheimer's at the same time that his hearing was slipping away. "At the end of her life, we still played some duets," Jay wrote me. "Her not remembering the mistakes she made and my not hearing them anyway." I had smiled when I read that last line in the email.
The Academy's elevator door slid open, and I walked into a long reception hall with enormous, arched windows. I spotted Jay, very tall with dark layered hair, from photos on his website. I'm just going to go up and introduce myself, I decided.
"Hi!" Jay exclaimed with a wide smile, throwing open his arms. He turned out to be as gregarious as he was tall. I found myself easily slipping into accommodations, speaking more slowly, and enunciating my words as clearly as possible. I understand that feeling of straining to hear, a feeling I have experienced countless times myself. Jay's wife, Lisa Ingram, an abstract artist, introduced herself, then signed to Jay while I spoke.
On one of the windows in the center of the hall, Jay had created a multimedia installation called Window Music. He explained how he had created a piano of sorts out of the window, by fitting matte board over each of the window's small panes. Different colored lights flashed onto different regions of the window, depending upon the music's frequency. For one song originally composed for Jay Alan Zimmerman's Incredibly Deaf Musical, for example, purple colored lights streaming in from the right represented bass notes.
"My goal was to experiment with different ways of visualizing music, to begin to develop a visual language for music," Jay said. "My hope is to somehow combine all the information about sound—pitch, rhythm, tone, melody, mood, etc.—into one comprehensible image."
I realized that, rather than feeling awkward around Jay, I felt very much at ease. Some of that comfort stemmed from his engaging personality, yet I also felt relaxed because Jay and I are part of the same hearing-impaired community. It was a relief to meet someone who understood that part of me that I often try to hide.
My conversation with Jay set the tone for that evening. Many of the people that I met, from the publicist to one of the HRP's board members, also suffer from hearing losses. (The HRP seeks to cure hearing loss in a decade by leveraging birds' abilities to regenerate the ear's damaged hair cells.) People formed tighter conversational circles so as to hear. I felt no compunction about saying "What?" when I missed a point.
"How was the reception?" my husband asked when I returned home late that evening.
"Great," I said with a smile. "Everyone had a hearing loss or was deaf."
My husband looked puzzled by my wry comment until I described the evening. It had been exhilarating to meet Jay, a composer and artist who has confronted his deafness with a feast of visual sound.
Copyright © 2018 Nancy M. Williams. All Rights Reserved.