A Disastrous Recital
An Adult Piano Student Takes on Suite Bergamasque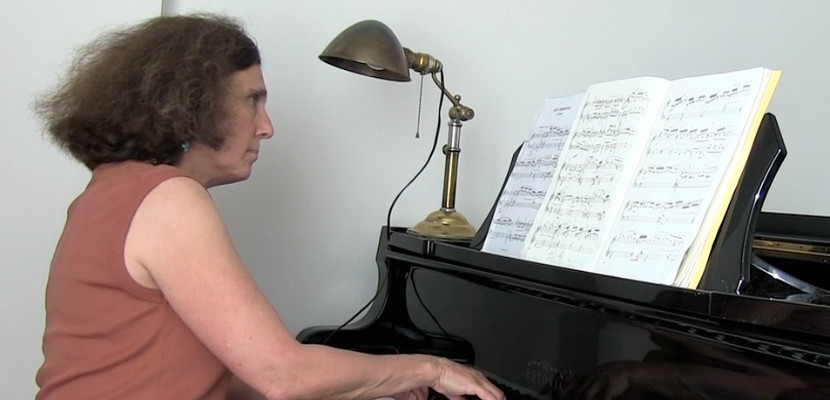 W
hen Sara Solovitch plays the Bergamasque Prélude, the bass chords make strong declarations while the melody tumbles down the treble in a celebratory way, a fitting interpretation given how the music has figured in her personal quest to overcome performance anxiety. Claude Debussy published the Prélude along with
Clair de Lune
as part of the 
Suite Bergamasque
in 1905. Sara joined
GRAND PIANO PASSION™
to discuss her two attempts to learn the music, as well as to play it in an exclusive video.
You first learned the Bergamasque Prélude not long after you went back to the piano.
My son was doing jazz on the saxophone, he had really fallen in love with it, and he wanted me to accompany him. I hadn't touched the piano for 30 years. I called up a friend, a good pianist who plays both classical and jazz, and asked him if he would introduce me to a little jazz playing. He said yes, but suggested, "Why don't we just go back over some basics, do some classical, some Bach? After a month or so, when your hands are back in shape, then we'll move on to jazz." And now, eight years later!
You never made it to jazz?
I never went to jazz. I fell in love with classical, and I realized it was this huge world that I had given up when I was 19 years old, largely because of performance anxiety. A couple of years into my lessons, I brought up the Bergamasque Prélude because I had never played it before, and I really wanted to. My friend doesn't really like Debussy. He's totally a Bach, Beethoven, and Brahms man, but he agreed. He gave me a lot of good feedback, but he would tell me something and I'd get mad. It was that kind of relationship.
Uh-oh. So what happened after you learned the music?
So my friend insisted that I play the Bergamasque Prélude in front of a few people, meaning him, his wife, my husband, and my son, who was the only son at home. That's the saxophone player and clarinet player. By the way, we found him someone else to accompany him on piano, since I never made it to jazz.
The Saturday morning of my little recital, my friend's wife ended up not coming. The other three people in my audience came and sat on the sofa. And I went to play the Bergamasque Prélude. I made a mistake at the bottom of the first page. I got so angry that I had to bang on the piano and say to my friend, "F*** this, I said I didn't want to do it!"
My son—he was 14 at the time—said, "Mommy, it sounded really good, really."
And my friend added, "You know, Sara, it was good."
All I could say was, "I hate it! I know it's not good; you forced me to do something that I really don't want to do, and I really don't appreciate it." I was having a ridiculous meltdown. Somehow they got me to go back and finish the piece, but I felt kind of sickened by the whole experience.
May I put this in the article? This is hilarious.
Sure. So you see, I've come a fairly long way.
Sara Solovitch
is an award-winning writer whose stories have appeared in
Esquire, Wired, Outside
, and other publications. She has been a staff reporter at several major newspapers, including the
Philadelphia Inquirer.
She is currently at work on her first book,
Please Shoot the Piano Player
, an examination of stage fright, which is slated for publication by Bloomsbury Press in 2014.
Copyright © 2018 Nancy M. Williams. All Rights Reserved.