Don't Sit at the Piano Like a Tree Trunk
An Amateur Pianist on the Georgian Style of Playing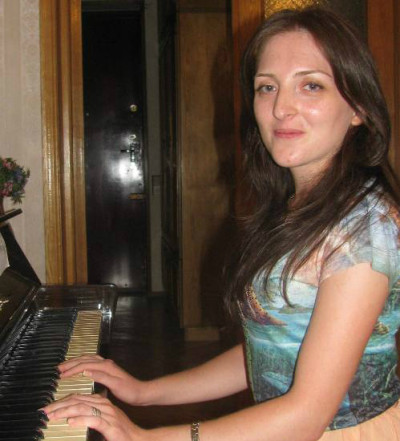 O
f the many teachers that amateur pianist Nino Dangadze had during her youth in the Republic of Georgia, the one who revolutionized her playing was Ana Ergemlidze. In this interview with
GRAND PIANO PASSION™
, translated from Georgian, Nino describes how Ana's lessons helped her through an intensely self-conscious adolescence.
Today you are a well-regarded secondary school teacher who has used classical piano music in her curriculum in some creative ways, yet during your adolescence you struggled.
I was painfully reserved when I was younger, shy and insecure. It was very difficult for me to express emotions because I was just so overly self-conscious. I also had a hard time making friends and adjusting to new environments.
And your teacher Ana Ergemlidze helped you overcome some of that?
Ana was a very energetic, impassioned person, expressive and animated, not afraid to demonstrate her feelings at the piano. She was my only teacher who isolated my restrained personality and really made me work on it, both personally and musically.
What were some of the pointers she gave you?
"Don't sit still like a tree trunk," she would caution, "You need to flow with the music, feel it with your whole body."
That's such a common Georgian expression, stiff like a tree. And it must have been great advice!
It was, but definitely not an easy one for someone as sheepish as I to apply in practice.
What about her teaching techniques?
Ana had this interesting habit of playing the piece, which I was practicing, with her fingers on my shoulder if she was standing, or on my thigh if she was sitting next me, and depending on how hard or softly she pressed her fingers on me, I knew how hard or softly I had to press the keys on the piano, and we played a duet like this, I on the piano, she on my shoulder or thigh. Interestingly, her physical closeness also transported the emotions she exuded, onto me, and I would feel the urge to frown or raise my eyebrows, close my eyes and tilt my head to one side or upwards, even purse my lips in my attempt to express the music. Of course, at that time, I thought doing these things was silly and quite embarrassing. I didn't understand the depth of Ana's instruction, but I do now, and I regret that I was too young then to take full advantage of a wonderful mentor.
Those are great memories you have of your favorite teacher. Do you think there's something special about the Georgian style of playing the piano in general?
I think that the Georgian style of playing the piano embodies the traits that Ana was trying to instill in me; the traits that are often associated with the Georgian character, being brisk and zestful and a little dramatic.
Can you name some Georgian pianists who you think fit this description?
There are many, but for me, Elisso Bolkvadze really stands out. I think she perfectly illustrates what I am talking about.
Told to and translated by Nini Bitsadze.
Nino Dangadze teaches Georgian language and literature at a private secondary school, "Imedi" (Hope), in Kutaisi, Georgia, writing a little, playing the piano a little, and learning a lot from her students.
In the video below, the Georgian pianist Elisso Bolkvadze performs Saint-Saens Concerto No. 2 with the Symphony Orchestra of the Tbilisi State Opera.
Copyright © 2018 Nancy M. Williams. All Rights Reserved.