Giving Back During the Holidays at a Halfway House
A Christmas Day Performance
Barry Alexander sings O Holy Night.
F
or a number of years my business partner and I began each Christmas day by going to a halfway house for substance abusers. Arriving before dawn, I would sing, my partner would play, and we would then help to cook and serve breakfast for the 50 or so people attending. Our repertoire was mostly
Christmas carols
, some spirituals, and because America had troops fighting in different parts of the world, I always closed with "God Bless America."
The audience was different from year to year, as the residents moved on to get jobs and repair their lives. It was always difficult for us to know what to expect, because unlike performing for an audience of enthusiasts, we were there more as ambassadors of the Christmas spirit, and less as musicians appearing for people who had come specifically to hear us.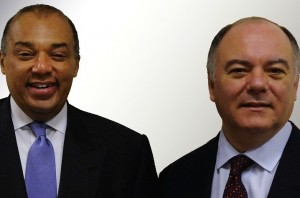 After we were finished, the comments ran the gamut from "Are you some kind of an opera singer?" to "You know, from now on, every time I'm ready to give up I'm going to think about how your singing touched me, and keep right on going."
Each year we performed, I would leave the halfway house and return home for a nap, before going to a dinner with family and friends that was sumptuous by any standard. Still, I could not help but feel that the best part of the day came in that pre-dawn morning, as I looked into the eyes of people I was seeing for the first time, and in all likelihood, would never see again. What I was able to get was so much more than what I could give, because our gift seemed to help and inspire in ways I had not imagined.
We have always told the many musicians with whom we work that their talent is a gift, simply because not everyone is born with the ability to create great music. We also tell them they are under an obligation to use that talent to bridge the gap between their humanity and their divinity. When one thinks of how much we as artists want audiences to like us, and to praise us, the concept of a performance making the artist a better person can seem as remote as the East is from the West.
Still, it is, and always will be, the desire to make that gap between human and divine just a bit smaller that can turn a good performance into a great one, by inspiring the artist to give the best they have to offer, regardless of the audience. Even without the promise of a great review the next day in the Times, Cosmo and I did our best to share a message of truth, clarity, and inspiration that should be part of every artist's performance.
Copyright © 2018 Nancy M. Williams. All Rights Reserved.