Top 5 on Piano Practice
Best News Articles in February 2013 for Practicing Pianists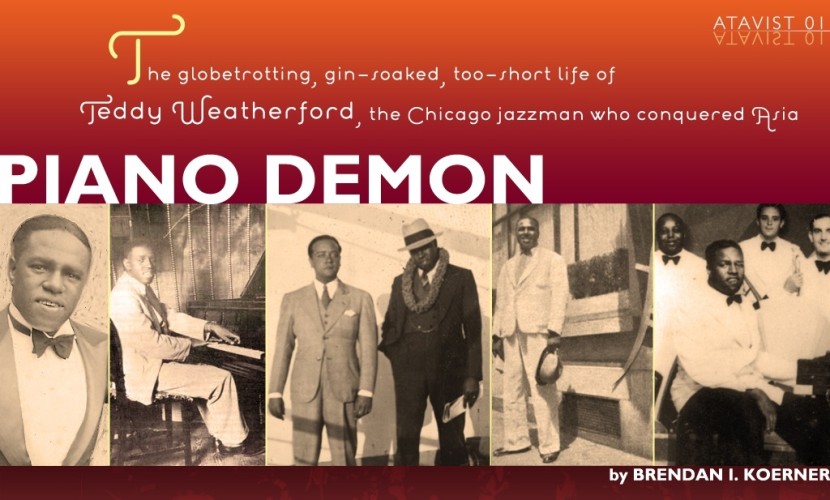 A story about a piano demon in a white shark suit who pounded the keys with grace leads my first installment of a monthly news roundup on piano practice, to follow last week's on hearing loss and music.
1.  My first recommendation is the Atavist single, "Piano Demon," richly written long form journalism about Teddy Weatherford, the African-American jazz pianist who led a musically inventive and socially wild life in the 1920s and 1930s. Weatherford landed across the globe from his Virginian coal-mining origins, in Shanghai, Singapore, and Calcutta, and in so doing helped to create the jazz scene in Asia.
A piece about jazz is a departure from my usual focus on classical piano music. Yet Brendan I. Koerner writes skillfully about music and provides a historical context for piano practice. Weatherford had "gargantuan hands, which earned him the nickname Seagull owing to their winglike dimensions." When he played stride music, his right hand dazzled with "melodic flourishes copped from multiple genres: the rapid arpeggios of classical, the soulful licks of blues."
The article's embedded music clips, demonstrating the progression of jazz music from its ragtime origins to swing, along with photographs and embedded maps, timelines, and footnotes, provide a multimedia feast. Published by Atavist, Piano Demon is at the cutting edge of literature. The article currently lists for $1.99 on Amazon.
2.  I also very much resonated with a new article recommending slow piano practice, so that the pianist can "feel each key and reinforce that crucial tactile sense to which we so seldom pay attention."  The author is Matthew Harre, the zen-centered and insightful adult piano teacher of the website Musical Fossils.  Playing slowly should be the centerpiece of piano practice, especially in places where the pianist is struggling.  "If there are consistent pauses, large or small," Harre advises, "the practicing is too fast and the pauses are being learned as part of the piece." For more on Harre, see the GRAND PIANO PASSION™ article about his experiences as a piano teacher taking adult piano lessons.
3.  More pointers on piano practice come to us from PianoMorphosis, the blog of Bruce Brubaker, chair of the piano department at the New England Conservatory of Music. He tackles the challenge of how to achieve continuity in the musical line as a solo pianist. "To me it seems, a fairly limited range of vision will help us," Brubaker opines. "If the head and eyes move very widely or very suddenly, continuity of sound and line are more difficult to achieve."  As someone who often performs with her head tilted upward and eyes closed, I found his counsel thought-provoking for my own piano practice.
4.  Nothing about piano practice is easy, and Alan Rusbridger's new book, Play It Again (reviewed in The Observer), doesn't hold back on the gritty details. Rusbridger, the busy Guardian editor, made it his goal for the year to master Chopin's First Ballade, Opus 23. Not surprisingly, finding the time to practice was half the battle. "The frenetic pace of Rusbridger's working life contrasts starkly with the tortoise-like speed of his pianistic progress, documented through detailed, self-flagellating metronome marks."
5.  Finally, Interlude alerted us to this story (covered by BBC) of Nicholas McCarthy, a 23-year-old pianist who was born without a right hand. As a teenager, he was refused an audition at a piano school; "It was soul crushing because that's all I wanted to do." So many pianists, from newly-hatched beginners to ambitious amateur performers, feel that same desire all too keenly.
Copyright © 2018 Nancy M. Williams. All Rights Reserved.