Top 5 on Piano Practice
Best News Articles in April 2013 for Practicing Pianists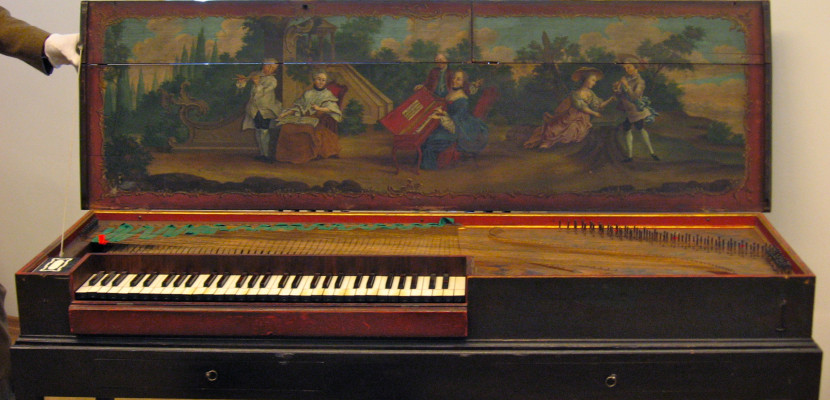 Clavichord from 1742 on display at the Hamburg Museum. Photo by Henricus Sagittarius via
Wikimedia Commons
.
In Jeremy Denk's piano practice notebook, his childhood piano teacher drew stars by hand, sometimes beaming, other times with sidelong glances, occasionally limping on crutches. This essay and more in our monthly roundup for April of the top 5 articles on piano practice.
A Talking Notebook during Piano Practice
In "Every Good Boy Does Fine: A life in piano lessons," concert pianist and author Jeremy Denk describes his experiences learning to play the piano through the lens of his relationships with his piano teachers. Beautifully crafted, the piece glistens with observations about the push and pull between student and teacher, such as the teacher's mission to discover what isn't working, compared to the student's to "elude discovery, disguising weaknesses in order to seem better than she is." Much of this masterpiece of an article focuses on Denk's study with György Sebők, the charismatic, spiritual, and yet scathing Hungarian emigre who taught at Indiana University. Denk's description of Sebők's suspenseful, whirling performance of the Gigue from Bach's first Partita is worth the yearly subscription price to The New Yorker alone.
Harpsichords, Clavichords, and Scarlatti
For those whose piano practice currently focuses on Baroque music, such as Bach, or on Scarlatti's music in particular, David Roden's vivacious and informative Did Scarlatti Play the Piano? is well worth a read. In the article's first half, he provides a detailed and yet clear comparison of the harpsichord and clavichord, which I realized I did not fully understand until reading his explanation. The second half gives an engaging overview of Scarlatti's life, especially in his role as a tutor to Maria Barbara, the Queen of Spain, and probes whether he intended his sonatas for the harpsichord or the piano.
Protesting a Piano
At Ohio University–Chillicothe, a retired fine arts professor became upset over a walnut baby grand piano placed in a university gallery where he was exhibiting his paintings and ceramics. "Although his piano may be a finely crafted instrument, it is not a work of art," his sign read on the piano in the otherwise empty gallery from which, in protest, he had removed his work. For those of us who spend so much time on piano practice? An alternative perspective.
Improving Memorization
Memorizing music often requires big chunks of piano practice time, and over the years, I've accumulated lots of different tips, perhaps because memorization requires approaching the music from different angles. In this 2006 classic from the archives of the Collaborative Piano Blog, Chris Foley gives 30+1 Ways To Help You Memorize Music Flawlessly. After offering detailed tips such as memorizing the piece's dynamics, he urges that the pianist make the piece her own. "Play with the conviction that comes from a deep knowledge of the music and meticulous preparation. Only then will you be able to say that you are making music from a place of deep confidence and artistic integrity."
Piano Practice for the Soul
In a gritty and poetic article for The Guardian's music blog, "Find what you love and let it kill you," the concert pianist James Rhodes laments that we have "evolved into a society of mourned and misplaced creativity." He extols us to reclaim ourselves, to write a haiku, to paint a picture, to practice the piano. After his hours of practice, he has a "piece of music that will always baffle the greatest minds in the world, that simply cannot be made sense of, that is still living and floating in the ether and will do so for yet more centuries to come. That is extraordinary," he says. "And I did that. I do it, to my continual astonishment, all the time."
Copyright © 2018 Nancy M. Williams. All Rights Reserved.