Hearing Health Affirmations from a Violist
Positive Statements from a String Player with Hearing Loss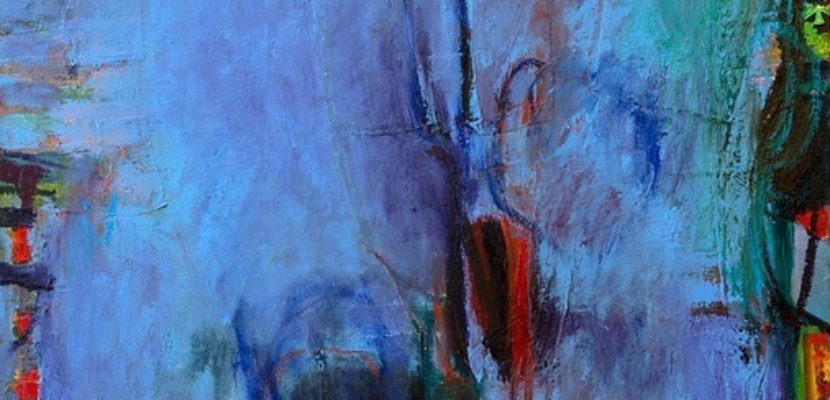 "Divine Fragments & Diverse Changes, no.2," oil and collage on canvas, by Contributing Artist
Leya Evelyn
.
A
fter I read Nancy M. Williams's article on her hearing health affirmations, I decided I should try doing them too. I grew up wearing a hearing aid while taking classical piano lessons. Now I am a viola student with cochlear implants in both ears and the founder of the
Association of Adult Musicians with Hearing Loss
.
Sometimes I have a tendency to focus on things I can't do as a hearing-impaired string player who's learning viola with very few visual cues, such as only one piece of black duct tape on the fingerboard. Occasionally I get depressed about what I can't do compared with string players who have normal hearing. I was inspired when I read Nancy's article about the positive statements she makes to herself called affirmations. Here are mine—some a variation of Nancy's, others totally different.
My ability to hear is stable, even improving.
I am very glad that my hearing level is stable. I think it would be very challenging to play music with fluctuating hearing loss.
My intonation is improving to the point that I can play several two-note and three-note chords in tune.
I can recognize major fifths and many octaves. I know when my octaves are not in tune. I can play three-octave scales and do a decent job. (Okay, it's only on C major and D major, but it's a start.) I can hear well enough to play two octaves of scales involving one or two flats in second position.
My spatial memory is good.
Developing spatial memory in the left fingers is critical when you love playing bowed strings and your hearing is not reliably telling you if you are playing in tune. So I'm very happy that my fingers are developing the spatial memory needed to play as in tune as I possibly can.
I have a supportive viola teacher to guide me.
Other string teachers have told me they would have thrown in the towel if they lost their hearing. But my viola teacher, because he has a little bit of hearing loss, is very sympathetic to my situation. He will suggest fingerings and strategies on shifting to a higher position that will capitalize on the notes that I can hear really well, even if the fingerings are not the traditional ways to finger or to shift positions for a three-octave scale.
I have the right to hear and play music for the rest of my life.
Whether it's viola, handbells, or piano, I cannot envision a life without making music in some form. Due to my cultural background as a daughter of first-generation Chinese immigrants, it has been hard to put myself first as a person who has a right to hear, or to continue music lessons well into adulthood. I am better at advocating for myself now.
Guest Writer Wendy Cheng is the President and Founder of the
Association of Adult Musicians with Hearing Loss
. She lives in Gaithersburg, Maryland, with her husband and two daughters. Outside of music, she enjoys reading, eating out, and traveling.
Contributing Artist Leya Evelyn is an abstract painter who exhibits extensively in galleries across Canada, the U.S., and Europe. She may be found at at www.leyaevelyn.com.
Copyright © 2018 Nancy M. Williams. All Rights Reserved.