My Secret to Finding a Good Hearing Doctor
The Search for an Otolaryngologist or ENT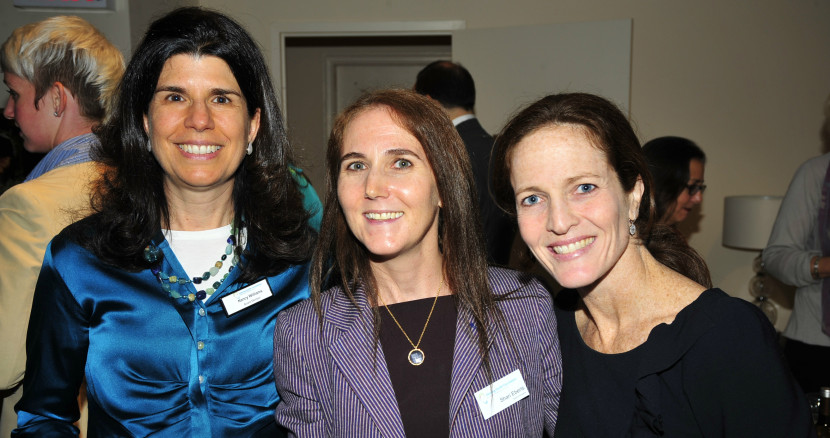 Nancy M. Williams at a May 2013 Hearing Health Foundation reception with Board chair Shari Eberts and Board member Rebecca Ginzburg.
I
have to credit the piano for being the catalyst to my finding a good hearing doctor, although the secret to my search was that I stopped being secretive about my hearing loss.
Ever since I was diagnosed with a hearing loss at age six, about 10 hearing doctors, otherwise known as otolaryngologists or ENT specialists, for ear, nose, and throat, have treated me, largely a function of how much I moved for college and then jobs as a young adult. Coming into contact with a fair number of hearing doctors, I've found that quality varies significantly, from some docs more focused on the plastic surgery part of their practice to skilled otolaryngologists who focus exclusively on the ear.
Historically, I received recommendations from my primary care physician, until recently, when I discovered that the best way to find a good hearing doctor is through recommendations from other people with hearing loss. But in order to get those word-of-mouth recommendations, I had to be open about my hearing loss.
Here's how it worked for me. Not long after I returned to the piano, I wanted to write about it. Once I started writing, the intimate relationship between music and hearing, sound and silence, crept into my work. I posted a few articles on how wearing hearing aids figured into a piano recital.
After reading that work, a friend asked me to attend, as a member of the press, a reception by the Hearing Health Foundation, a New-York based non-profit funding a cure for hearing loss. At the reception, I was elated, not only by the heady prospect of a cure, but also by, for the first time in my life, being in the company of a large group of people with hearing loss. I started volunteering with the Hearing Health Foundation. One of the board members recommended to me an otolaryngologist who provided to me a fantastic level of care that I had never received before.
That chain of events occurred within only six months. My dedication to piano practice and adult piano lessons created openings for growth. But also key in that chain of events was my decision to go public, as it were, with my hearing loss.
Unfortunately, society stigmatizes hearing loss as the bane of the elderly, the disconnected, the distracted, stereotypes which cause those of us with hearing loss to deny our condition, even to ourselves. Yet it is only by finding a good hearing doctor that we can have our hearing properly diagnosed and that we can seek treatment, often with hearing aids. Treatment gives us back our youth, our connections, and our attention.
My hearing aids enable me to function, as an editor of this magazine, as a parent, as a performing pianist, and now as a board member of the Hearing Health Foundation. The best way to seek treatment is to start with a superb hearing doctor. It may be time to ask yourself what you can gain by opening up.
Copyright © 2018 Nancy M. Williams. All Rights Reserved.