Top 5 on Music and Hearing
Best News Articles in May 2013 for Musicians with Hearing Loss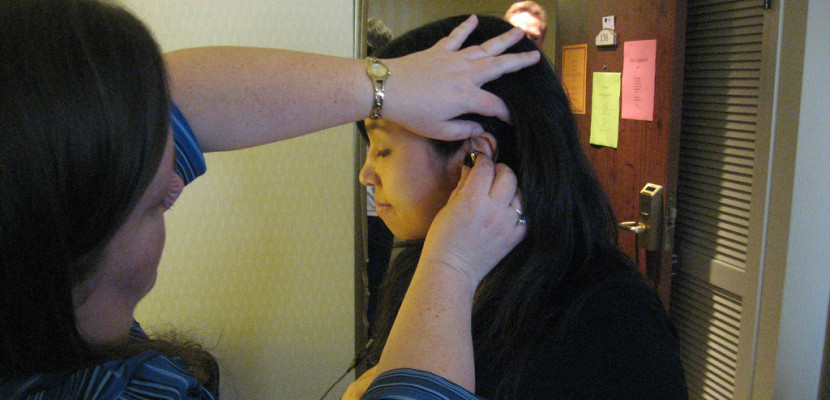 Audiologist and patient. Photo by Flickr user
_e.t
via Creative Commons.
"I
f you hadn't heard music for 20 years, how would you feel when you could hear it again?" asks a blogger who recently acquired cochlear implants. Find this story and more in the latest roundup of articles about music and hearing loss.
Cochlear Implants Bring Back Music after 20 Years
An anonymous London-based blogger nicknamed "Ducky" described the experience of listening to music with cochlear implants after not being able to hear it for two decades. Ducky brings us through the switch-on process with the audiologist, writing, "Within a minute or two the circling noises started to resolve themselves and were arranging themselves in time with the audiologist speaking. After ten minutes, she sounded as though she had a voice. A weird voice, but a voice." After a few weeks, Ducky began listening—listening hard—to recorded music, playing each track over and over for hours to discover the various layers and instruments within.
A Student Composer with Hearing Aids
The New York Daily News profiled Brooklyn high school student and pianist Erin Mulrooney, who has been composing music since the age of six or seven. She found out when she was 16 that she had been living with "significant" sensorineural hearing loss for quite some time. After getting hearing aids, she showed a marked improvement in academics, but says, "Surprisingly, I write music, and can analyze and appreciate music much better when I don't have my hearing aids on." Mulrooney has composed piano concertos and choral works; on June 11 one of her compositions will be featured in the Choral Chameleon Institute Concert in New York City.
A Musician with Hearing Loss Describes Childhood Experiences
Ruth Montgomery, a flutist and visual artist in the UK, offers up her personal experiences of growing up with music and deafness on her new blog. Her father is a guitarist, and music was a key part of Montgomery's life from early on. Her parents found out she was profoundly deaf when she was three years old. Getting by in school without any support for deaf students was stressful, but, Montgomery recalls, "despite all the stresses I had, music was like my friend: it was always there for me and with learning the piano and doing well with it, I felt like I was given something. It gave me so much self-worth."
A Conference on Music and Hearing Loss
Montgomery was one of the performers at a May 30 conference at the Royal Northern College of Music in Manchester, UK, that capped off a project called "Interactive performance for musicians with a hearing impairment." The one-day conference had about 50 participants, and "included a talk on Beethoven's deafness… [and] a panel discussion of the strategies for interactive performance that are used by and available to musicians with hearing impairments." One of the technologies featured was vibrotactile feedback, which can help musicians with hearing loss collaborate with other players in an ensemble, as demonstrated in this video by University of Liverpool researchers.
Research on Musicians and Noise Exposure
Speaking of research, the journal Noise & Health published results of a Swedish study on whether musicians can accurately judge the safety of their daily noise exposure. The study involved 22 professional classical musicians who wore dosimeters to measure noise exposure and logged their daily musical activities. And the results? "Half of the participating musicians seemed to be capable to reasonably judge the harmfulness of the music that they were exposed to. However, since many musicians seem not to be able to make such judgements, risk assessments of loud sounds at work should always be based on sound level measurements."
Copyright © 2018 Nancy M. Williams. All Rights Reserved.