What Happened When I Forgot My Music
My Experience Playing a Sing for Hope Piano
In this video, Nancy M. Williams plays the first section of Chopin's "Raindrop Prelude" on the Sing for Hope Piano at the Dairy in New York's Central Park.
O
n the day that I was supposed to play one of the Sing for Hope pianos in New York City, I forgot my cell phone, barrette, and most distressingly, my sheet music of Schubert's Sonata in A Major.
Contributing Writer Stacy Schwartz and I had agreed to meet at a Sing for Hope Piano—one of 88 placed outside for two weeks in June throughout the five boroughs—at 3:30pm. We would both film the other playing the piano. But somehow I got lost trying to find the Dairy in Central Park, and sans cell phone, I was unable to check the location or call Stacy. I wandered up and down 65th Street in the park, weighed down like a mule by my laptop, the video camera, and tripod.
"I'm doing too much," I announced to Stacy after I arrived at the Dairy 40 minutes late.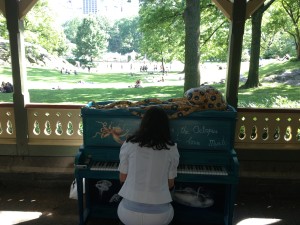 When I sat down at the piano, the wind blew through the Dairy's arches. I wished I had my barrette to hold my hair, a fact I was about to mention when I realized I had forgotten my sheet music for the piece I intended to play, the Andante from Schubert's Sonata in A Major, Opus 120. Having recently learned the Andante, I had not committed it to memory.
"I guess I could play the 'Raindrop Prelude,'" I said. "But I feel like I've filmed that 5,000 times." I could feel myself pouting with frustration.
"You have a lot of new readers," Stacy said helpfully, "so not everyone will have seen it."
She was alluding to GRAND PIANO PASSION™'s recent growth, an exciting phenomenon for me, but now overshadowed by the missing sheet music. I ran through the first section of the "Raindrop Prelude," mostly closing my eyes. When I opened them, I considered that the piano, a deep-sea blue decorated with an octopus and shells, was lighthearted but also calming. Over the top of the octopus, I could see the field behind the Dairy stretching into a grove of trees. A milky, early-summer sunshine blanketed the field. How lucky am I, I thought, to be outside playing this art creation of a piano.
Stacy gave me the sign, then pressed the record button on the video camera. I launched into the "Raindrop Prelude." With my eyes closed, I could feel the air on my bare arms, so temperate it felt medicinal. The wind wafted under the porch, then lifted the front section of my hair. I had forgotten my cell phone, barrette, and most distressingly, my sheet music—all possessions, stuff I had told myself I needed to feel secure—yet in reality I felt blissful simply playing this Sing for Hope Piano.
Copyright © 2018 Nancy M. Williams. All Rights Reserved.