The Beethoven Pathetique as Companion through Illness
An Open Letter from Emily Sun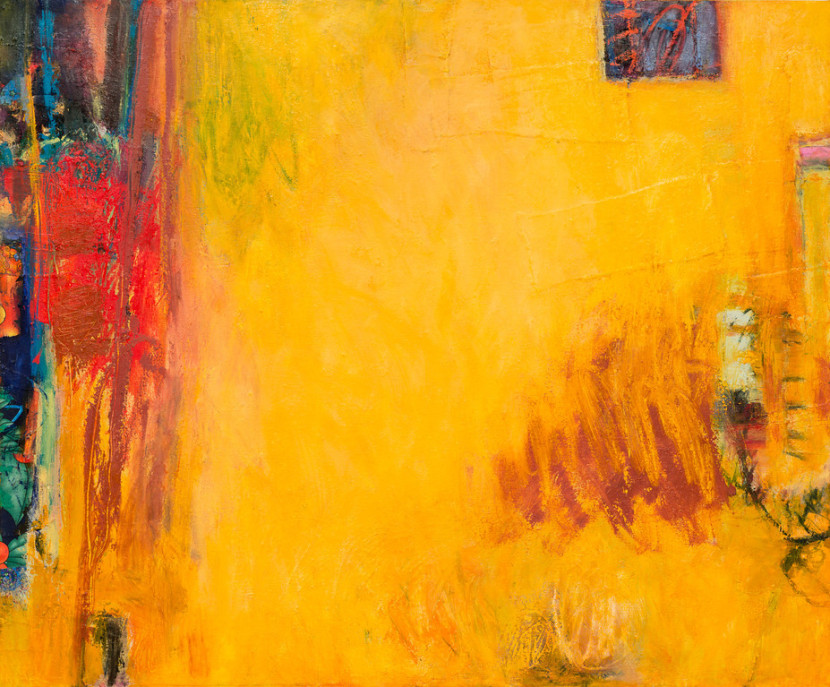 "It Happens To Be There, no. 5," oil and collage on canvas, by Contributing Artist
Leya Evelyn
.
Editor's Note: Emily Sun is a 36-year-old Australian woman who is an accomplished pianist. Despite having lymphoma and relapsing in the central nervous system and brain, she is often filled with hope and gratitude. She recently underwent an autologous stem cell transplant (her "auto"), where she received her own stem cells she previously had banked as insurance. She wrote this inspiring email to GRAND PIANO PASSION™ Founding Editor Nancy M. Williams when she was undergoing chemotherapy in preparation for her auto. She graciously agreed to its publication here.
* * * *
May 15, 2013
Dear Nancy,
Being able to play the piano is helping me through this incredibly difficult time. My sister loaned me her iPad for my upcoming hospital stay so that I could Skype or FaceTime my loved ones.  I started exploring some of her music on it and found a few Beethoven sonatas.
When I heard the second movement of the Beethoven Pathetique, I thought, wow, to be able to play that again. I will do it after my auto. But then I thought, why wait? What if there is more damage to my brain or fingers after that? I am alive today and am still capable of reading and learning music.
I am alive today and am still capable of reading and learning music.
I semi-learnt the Beethoven Pathetique as a teenager, so I decided this was the piece that I wanted to play for the friends who have helped me out so much with my son when I have been in the hospital. I never made it to Carnegie Hall, but I have a living room and a piano and some chairs. And I wanted to communicate how I felt to my friends. I wanted to do it this week when I was well.
So I learned the music again, tried my best with the passages I found challenging. I knew that I wasn't ready for the sort of performances I used to have to do as a teenager. I hadn't committed the entire movement to memory, but it didn't matter.
After my friends came over, I played it and played through the mistakes. It was awful that even in my predicament, my classical music training has left me very critical of mistakes. Although less so now that I read some of the book you sent me, with the quotes from Gyorgy Sebok. It was great. When I played the Pathetique, I loved being able to communicate what I was feeling to my friends, and I think they were touched that I did it for them.
People ask me, even if this remission holds, you won't know until you don't relapse. How will you cope with that psychologically, since you have been told you are likely to relapse, and you can't challenge the science of it until you have stayed in remission for at least two years? It is a good question. But I think my answer is that I will just keep learning new pieces of music.
The piano is also my connection to my son. He was three when I was first diagnosed. He is nearly six now and playing his little pieces. He knows that I play the piano and sometimes just sits with me when I play.
I do not for one moment regret learning the piano. I have no regrets not pursuing it professionally, as I know I had another journey to take, but I am glad that it has been my companion on this journey. It is another way of expressing what I need to say.
My biggest hope is that I will be okay. That I will defy what the doctors have said about my auto, that I will last long enough for something to save me or that I will be a freak case as I have proven to be already, but in a good way.
There are many things that I wonder, and that is what I love so much about life.
I often think about the world of Beethoven. He lived in a world far harsher than the one I live in, and darker, with known uncertainties. He was not cajoled into a sense of safety by sitcoms and Hollywood narratives. In the music like the Beethoven Pathetique you can hear his philosophy.
How wonderful it is that I lived after Beethoven in an era where I can email you, someone with whom I share a common passion but lives so far away. I feel so blessed to have this experience. I wonder if Beethoven could have imagined his music would still have relevance in a digital age. There are many things that I wonder, and that is what I love so much about life.
I really hope I make it through.
I hope the third time is lucky.
xx
Emily
Emily Sun lives in Perth, Australia. Before becoming ill, she defined herself as a mother, a writer of dystopian young adult fiction, and an academic studying identity in multicultural Australia. In high school, she was a violin scholarship student and played with state orchestras, but her true love is the piano. She is now playing classical piano music again.
Contributing Artist
Leya Evelyn
is an abstract painter who exhibits extensively in galleries across Canada, the U.S., and Europe. She may be found at at
www.leyaevelyn.com
.
Copyright © 2018 Nancy M. Williams. All Rights Reserved.