Kindred Souls Making Music
A Review of Making Music with a Hearing Loss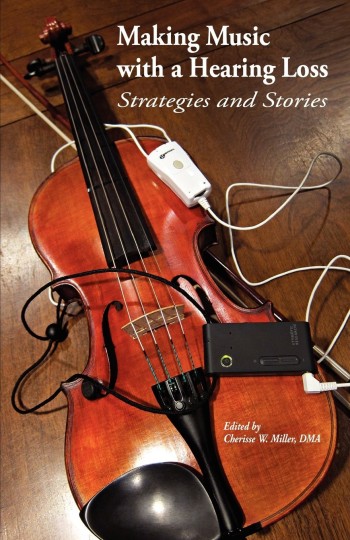 Book cover, Making Music with a Hearing Loss, edited by Cherisse Miller, AAMHL Publications, 2011.
F
or two months,
Making Music with a Hearing Loss: Strategies and Stories
languished on my dresser. I wanted to read the book, I told myself, but perhaps not at night, when I do most of my reading. By forcing me to confront my hearing loss, the book might upset me to the point where I would have trouble sleeping. So the slim volume languished, caught between the vagaries of my reading schedule and the residue of denial I still have about my hearing loss.
One afternoon this spring, I finally cracked it open. In the Foreword, violist Wendy Cheng talked about how she had no role models of hearing-impaired musicians during her childhood. I was immediately transfixed. Inside the pages were my people, the hard-of-hearing, the deafened, the WHAT association. They were singers, flutists, and pianists, to name a few, each with my same unreasonable, passionate, consuming love of music.
With the subtitle of Strategies and Stories, the book is aptly named. Half of the book consists of first-person narratives from hearing-impaired musicians. Editor Cherisse W. Miller ensured that although the stories come from a wide range of writer-musicians, they are consistently well written.
These musicians also share their strategies, creative approaches for handling hearing loss as a musician. Renee Blue O'Connell is a music practitioner, guitarist, and singer with a cochlear implant in one ear and hearing aid in the other. She describes how she completed intensive interval training to be able to hear melodies. Pianist and composer Jennifer Castellano relates how her breakthrough as a pianist occurred when her teacher used words related to touch or feeling to describe music. She finally understood legato when her teacher said that it "should feel gummy and sticky."
Inside the pages were my people, the hard-of-hearing, the deafened, the WHAT association.
Complementing the personal narratives are chapters from audiologist Brad Ingrao—who gives one of the best overviews of the process of hearing I have personally read—and from Marshall Chasin, one of North America's premier audiologists focused on music. Chasin describes how to adjust hearing aids—scotch tape is involved in one recommendation!—and how to protect your hearing.
The book is published by AAMHL Publications, an arm of its eponymous Association of Adult Musicians with Hearing Loss, founded by its President Wendy Cheng. Although she wears cochlear implants in both ears, Wendy is a committed viola student and performer. "Here at last," she concludes in the book's Foreword, "we find kindred souls who share our mutual passion for making and performing music."
Tomorrow, an excerpt from Making Music with a Hearing Loss by the composer Timothy Polashek.
Copyright © 2018 Nancy M. Williams. All Rights Reserved.