My Unique Sense of Sound
An Excerpt from Making Music with a Hearing Loss
In this video, Loren Tice plays Timothy Polashek's original piano composition "Porcupine Quest."
I
have never taken my sense of sound for granted. Inspired by my experiences as a high school musician, I pursued a career in music, obtaining a bachelor's degree from Grinnell College and a master's in electro-acoustic music at Dartmouth College. Eventually, I earned a doctorate in composition from Columbia University. I have also needed
hearing aids
for my entire life.
In the first grade, my teachers began noticing my irregular behavior. At times, I would speak at a volume unnecessarily loud for the classroom and in some instances communication errors would cause disagreements between me and my classmates. Soon afterward, I was diagnosed with moderate hearing loss and given a single hearing aid. In high school, I received my first pair of hearing aids. I was in stereo. It was like a whole new world.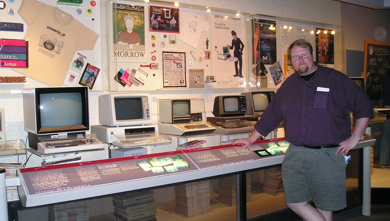 As a music technology professor, my studies have a direct relationship to daily life. Many years after studying electro-acoustic music at Dartmouth, I began using digital hearing aids, which literally allow me to experience the technology in action. My current hearing aids feature a music setting that functions much like the mastering process for digital music. By switching this setting on, I am able to hear live music as if it were filtered through a mixing board, a technological phenomena only recently available.
In fact, as I age, hearing aid technology only gets more advanced; while most people gradually lose their hearing, I get a little better every decade. My hearing loss has afforded me a rare perspective on the science of sound, beginning at an early age. As a child, I would constantly have trouble recognizing specific speech patterns. While the literal meaning behind conversations or lectures would frequently go unrecognized by my aural senses, I paid closer attention to the rhythm and tone of the human voice. Because speech often became music in my ears, I could not help but develop an interest in the art form.
Musicians with hearing loss are drawn to music because you have to think about it a little more.
Musicians with hearing loss are drawn to music because you have to think about it a little more. This unique perception of sound, as well as my interests in science, engineering and music, has led me to think about hearing loss intellectually and artistically. In 2005, I published "Beyond Babble", an article elaborating upon my perception of sound and introducing my Beyond Babble computer program. By following a scientific equation, the program synthesizes music and poetry similar to the nonsensical music that my sense of hearing often produces in reaction to human conversation. The program produces an artificial, or constructed, language, created for an artistic purpose. By combining traditional music, technological theory and personal experiences with sound, I believe I have created something entirely original.
Guest Writer
Timothy Polashek
is a computer music specialist and composer of electro-acoustic, instrumental, and vocal music. His music has been performed in Hong Kong, Brazil, Moscow, and other European countries, including international festivals such as the International Computer Music Conference, International Intermedia Festival, and the Icelandic Festival of Electronic Arts. Tim has lived with moderate hearing loss since birth and wears hearing aids every day.
Copyright © 2018 Nancy M. Williams. All Rights Reserved.