How a Mystery Guest Found Belonging
Thoughts from a Songwriter with Profound Hearing Loss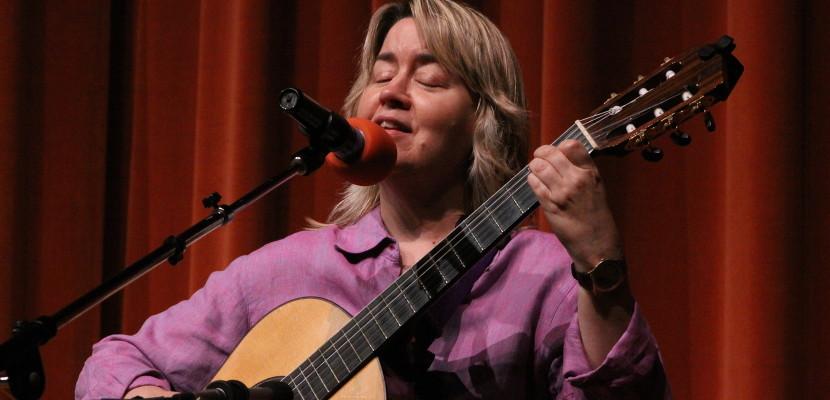 Photo of Blue O'Connell by Norman Carter.
A
s a certified music practitioner, I play for patients, seniors, and people with special needs. In addition, I am a songwriter and composer. Of all of my musical endeavors, composition is the most mysterious one, for I never know once a piece is born where its life will take me. One piece in particular comes to mind.
The wordless song came to me one evening while playing my guitar to calm an agitated person with Alzheimer's. The melody was so compelling that when I went home that night I recorded it. For a few months I continued to play this piece that I called "Something in B," as I could not come up with a title for it.
"Mystery guest" was a fitting description of how I saw my social standing for much of my life.
Many years before, a friend had invited me to be the "mystery guest" at a gathering. "Mystery guest" was a fitting description of how I saw my social standing for much of my life. As someone with a profound hearing loss, the feeling of being an outsider prevailed. Yet it was for this gathering that I found my voice as a writer when I wrote a song titled "Mystery Song."
I've worn a hearing aid in one ear since my mid-20s and got a cochlear implant in the other ear four years ago. Once I was implanted, I faced months of aural rehabilitation to regain music perception. So my music is something I never take for granted. Each piece of music I create is a work of art that takes on a life of its own, and I am forever altered by its presence. "Something in B" is a good example of this.
As it happened, my songwriter friend Diane Cluck and I were planning a concert and I asked her if she would like to play "Something in B" as a duet. Diane's piano part created a poignant conversation between our instruments. We both really looked forward to debuting our collaboration in public, but I still did not have a title for the piece. Then I got the idea to have the audience name it.
Suddenly we had a shared vision to solve the riddle of my nameless song.
On the night of the concert, when it was time to play our "mystery piece," I passed around a basket with scraps of notebook paper and pens to the audience. Before this activity, it seemed the audience was comprised of strangers spread across the room. Each small party had its own separate table. Suddenly we had a shared vision to solve the riddle of my nameless song. The audience voted by clapping for the submission they liked best as I read all 38 entries out loud.
Here were some of the ideas: "Field of Clouds," "Open Dreams," "The Long Goodbye," "End of Rain," "Dance Naked in the Rain," and "Born to Be Wild." The winning title was "Promise of Spring." It could not have been a more fitting name to call it on that cold, rainy February night.
Having a piece called "Promise of Spring" inspired me to make a video celebrating spring beauty in Virginia. This story of one song's journey mirrors my own journey emerging from the mystery guest to someone who found her place in the world. And when I was able to achieve my dream of playing music for all kinds of people, I found where I belonged. I am a person with profound hearing loss, and I also am a song leader, music practitioner, composer, and performer, who brings people together with music.
Below is the video featuring the recording Diane and I made of the song with some spring photos. Hope you enjoy!
The song "Promise of Spring" by Blue O'Connell is also featured in the soundtrack for the video "What Is a Cochlear Implant?" by Rachel Chaikof. It is one of three soundtracks for videos she has done for
Cochlear Implant Online
.
Blue O'Connell enjoys providing live music for conferences, banquets, award ceremonies, and other events. In addition, she is a motivational speaker for disability-related organizations. Her CD,
Choose the Sky
(released in 2011) has received notable praise from music critics describing her music as: "inventive," "creative," "haunting," "profoundly moving," "full of grace and inspiration." For more information, visit
www.blueoconnell.com
.
Copyright © 2018 Nancy M. Williams. All Rights Reserved.