Hear This! An Anthology
A New CD Performed by Musicians with Hearing Loss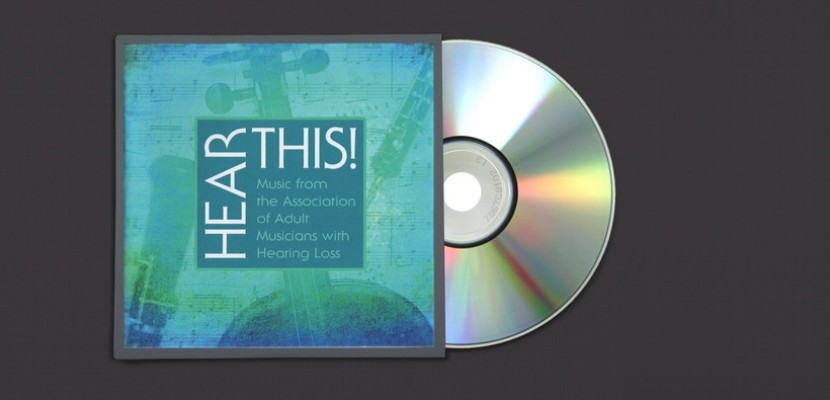 Graphic by CTW.
T
he
Association of Adult Musicians with Hearing Loss
(AAMHL) announced last week their first CD, entitled
Hear This!
. I caught up with Wendy Cheng, the association's founder, about
Hear This!
in anticipation of two planned CD launch parties, one in Montclair, New Jersey, on October 5, the other in Washington DC on October 26, to both of which the general public is invited.
What experiences and beliefs drove you to put together this CD?
While we were putting together our book Making Music with a Hearing Loss: Strategies and Stories, one board member thought it would be great to compile a CD anthology of music performed by adult musicians with hearing loss. I thought creating such an anthology aligned with our mission of highlighting the ability of musicians with hearing loss to perform aural music expressively and beautifully. We asked AAMHL members who were interested to send high-quality audio submissions, and the board of directors made the final selections.
The final CD has musicians with a wide range of musical genres and instruments.
There are six musicians on this CD: two pianists, two guitarists, one vocalist, and one cellist. Each artist has something that I admire.
I love Paul Silverman's cello playing because it is so solid and flowing. Plus he has lived with a significant hearing loss all his life and wears hearing aids in both ears.
Jennifer Castellano has both vision loss and hearing loss. She has done very well musically despite having two sensory disabilities. She wears hearing aids but memorizes all the music she has to play. I think she has the right touch and expression on the piano for her submissions.
Blue O'Connell wears cochlear implants and is a guitarist and songwriter. I like the quality of her playing—"Owl's Dream" is very serene, and "To Belong" is a song that highlights the problem of living life with a disability.
The guitarist Charles Mokotoff has lived with hearing loss for a long time, since losing his hearing beginning in high school. His playing is very artistic and expressive as befitting someone with professional training.
Kathryn Bakke wore a hearing aid in one ear until she experienced sudden hearing loss in the other, causing her to receive a cochlear implant in that ear. Yet she went on to earn a master's degree in piano performance at the University of Minnesota and adjudicate piano competitions there. Today she does a lot of one-person musical shows around the Midwest. Although classically trained, she plays Gershwin and jazz selections quite well. I think her submissions shows her versatility at the piano.
Elissa Lala is a jazz singer originally from New Jersey, but now lives near Los Angeles. She also obtained certification to be a hearing aid dispenser. There aren't many hearing-impaired singers who also dispense hearing aids… and she sings very well and expressively too!
Who do you think would enjoy the CD?
I strongly feel this CD is for all individuals, whether they have normal hearing or not, who love hearing a good variety of music.
For music students with hearing loss like me, this CD anthology serves as an impetus to practice harder and become better as an instrumentalist. It is my sincere hope that people who listen to this CD anthology will come away inspired and think musicians with hearing loss (who play aural music) are a special group.
We also hope to use this CD as a mechanism to fund future AAMHL initiatives.
The CD Hear This! Music from the Association of Adult Musicians with Hearing Loss may be ordered from CreateSpace.
Pianist Jennifer Castellano will perform at the first CD launch party on the afternoon of October 5 in Montclair, NJ. For more information about the second afternoon launch party in Washington DC on October 26, email info@aamhl.org.
Wendy Cheng is the President and Founder of the Association of Adult Musicians with Hearing Loss. When not practicing music, or working on association projects, she is probably at her day job as a librarian for the federal government. She lives in Gaithersburg, Maryland, with her husband and two daughters.
Copyright © 2018 Nancy M. Williams. All Rights Reserved.