Gregg Kallor's Modern-Classical Videos
A "Broken Sentences" Collaboration with Alan McIntyre Smith
Gregg Kallor's "Broken Sentences" music video.
I
n September, the composer and pianist
Gregg Kallor
released a new music video, "Broken Sentences," which he shot on the streets of New York. Both "Broken Sentences" and an earlier video, "Espresso Nirvana," are part of Gregg's Carnegie Hall-premiered and now Grammy-balloted suite,
A Single Noon
. Collaborations with filmmaker
Alan McIntyre Smith
, the videos have innovative camera angles and intoxicating light, but perhaps their crowning achievement is the fusion between visuals and music. Gregg joined me for this exclusive interview for
GRAND PIANO PASSION™
:
When I watched your "Broken Sentences" video, I noticed—with admiration!—the integration between the music and visuals. Sometimes camera movements synched perfectly with the music's phrasing, and other times the music and visuals seemed to run in a harmonious parallel.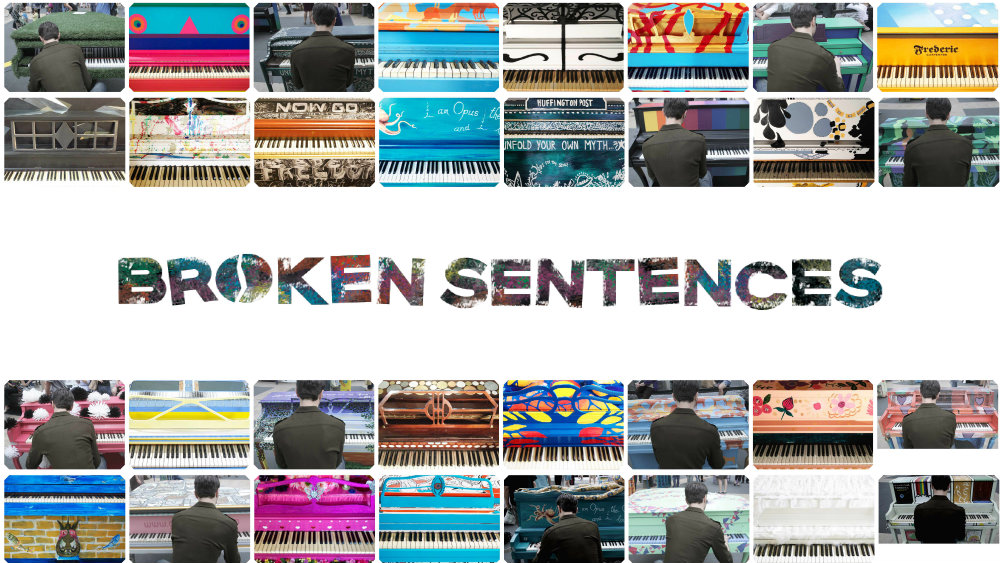 Thank you! Alan and I wanted to capture the buzzing, exuberant energy of New York City, and we thought the "Broken Sentences" movement evoked a sense of that fantastic urban chaos. We tried to approach the video the way Mark Morris choreographs his works—a joining of the visual elements and the music. Alan took so many gorgeous shots, and we wanted to be sure that the visual rhythm supported and amplified the musical rhythm to create visceral experience for the viewer.
And speaking of gorgeous shots, I really enjoyed your "Espresso Nirvana" video. The cinematography at the end, when the images multiply in a golden light, was beautiful.
Alan lights things beautifully—it's one of the aspects of his work that I love most. That caffeinated bliss sequence at the end of "Espresso Nirvana" was something he envisioned early on. We weren't able to control the environment or the lighting for "Broken Sentences," so it's especially impressive to see the beautiful images he was able to capture.
What role do you feel video plays in your creative process as a composer?
Creating a music video affords a fantastic opportunity to delve into a new creative project after I've composed a piece of music. I don't think of the video while I'm composing, but the video (for me) is an extension of the composition—a new way to make the music tell a story. I've found that there's a lot of overlap in editing processes of musical works and videos, as far as attending to small details while ensuring that the overall effect is achieved. A big difference, though, is that I get to collaborate with Alan on the video, which is inspiring because he brings a whole different set of insights to the process.
I found it difficult to classify A Single Noon. Is this jazz, I asked myself, or no, wait, maybe it's classical. Are A Single Noon's roots more in jazz or the Baroque-Classical-Romantic repertoire?
Gregg Kallor's Favorites from the Repertoire
I love Rachmaninoff's preludes and Études-Tableaux. And his Corelli Variations—gorgeous writing, super inventive thematic development. Brahms's Op. 79 Rhapsodies are amazing—Sturm und Drang passion, and that heartbreaking nostalgic lyricism that Brahms does so well. Ginastera's Argentinian Dances are a ton of fun to play. And Fauré's D-flat Nocturne—stunning.
More the latter, but a bit of both. All nine movements in the suite are bound by their development of the opening theme—almost a
songs-without-words
cycle for piano.
Time Out New York
calls my music "modern classical." That works.
And during your childhood, you were trained in classical music, is that right?
Yes. My older brother took lessons with a wonderful classical teacher, and I'm told that I begged her for lessons every week for a year—she finally relented when I turned six. She was kind and patient, and she introduced me to the great Classical and Romantic composers. She also encouraged my love of improvising—I was very lucky to have someone like that introduce me to music. It was a bittersweet day when she suggested that I was ready for more advanced study, but we both sensed that it was time for me to move on, so I enrolled at the Hartt School of Music until I went to college.
What advice do you have for advanced amateur pianists interested in learning A Single Noon?
Learn it! Play it! Perform it! The sheet music will be available in January on my website (GreggKallor.com). The opening movement, "A Single Noon," will be the most immediately gratifying. It's basically a vocalise for piano. "Found" is also a great place to start; it's the slow movement of the suite, and sort of the emotional centerpiece. The more rhythmic movements—"Broken Sentences," "Espresso Nirvana," and "Here Now"—may be a little challenging, but they're a lot of fun to play!
Gregg Kallor is the recipient of an Aaron Copland Award for composition. Kallor's most recent recording,
A Single Noon
, features his nine-movement piano suite—a musical tableau of life in New York City. Kallor collaborated with filmmaker Alan McIntyre Smith to produce two videos set to music from
A Single Noon
. For more information, please visit
GreggKallor.com
.
Copyright © 2018 Nancy M. Williams. All Rights Reserved.