How to Appreciate Music with a Hearing Loss
Thoughts from the Author of Shouting Won't Help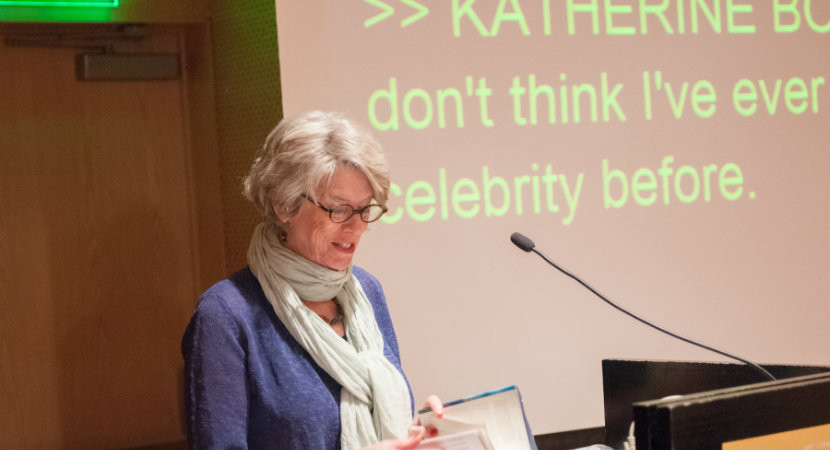 Author Katherine Bouton in Seattle. Photo by Miguel Edwards.
Founding Editor's Note: Last year I had the pleasure of reading Katherine Bouton's new book, Shouting Won't Help: Why I—and 50 Million Other Americans—Can't Hear You. I found the book's analysis on the prevalence of hearing loss to be both saddening and enlightening, and I gobbled up her personal story about hearing loss. Interspersed throughout the book is her journey towards a cochlear implant, beginning with the first signs of her hearing loss at age 30. I felt a silent communion with her as I read first about her increasingly futile efforts, as a senior New York Times newspaper editor, to hide her hearing loss, then her struggle to acclimate to a new world of sound through her cochlear implant.
With the release of her book in paperback in February, I asked Katherine Bouton, who is not only a gifted writer but also has a love of classical music, to share with GRAND PIANO PASSION™ how the writing of Shouting Won't Help has crystallized her understanding of the challenges of appreciating music with a hearing loss.
* * * *
S
erious hearing loss can be intensely frustrating to people who love music. It's especially difficult if the music they love is classical. Because hearing aids and cochlear implants distort pitch, orchestral music is almost impossible to hear. It really is just noise, not music. And it's even worse when heard on a recording because there are no
visual clues
.
The music that truly moved me exists only in memory. I don't think I'll ever again hear that great Verdi duet at Act Two in Don Carlo where Carlo and Rodrigo pledge their friendship and vow to save Flanders (a touch I always found amusing). The astonishing sextet that ends Act Two of Lucia di Lammermoor, where the family turns on each other, is one of my favorite pieces of music ever. (It was also used to great effect by Martin Scorsese in The Departed.) I also miss church music, pop music—U2 and the Rolling Stones. I miss Emmy Lou Harris and Allison Kraus. I miss the old Simon and Garfunkel duets. My niece's fiancé is a jazz musician and I can't really hear his music. Very frustrating.
I could go on and on. I can remember some of the music I love, but I can't hear it. A hugely important emotional component—the overwhelming joy or despair or love or anger as it's expressed in music—is no longer part of my life.
Despite all of the challenges, I have found other ways to appreciate music. I still love opera, because it's a multi-dimensional experience including not just the music but acting, dramatization, and production elements like costumes and lighting. I can also hear some solo voices. And best of all, it almost always is subtitled. Even if the titles are a translation of what's being sung, they are still a clue that helps distinguish the sung words.
Geoff Plant, at the Hearing Rehabilitation Foundation in Somerville, Massachusetts, uses music in his aural rehabilitation practice. I learned from him that any music with subtitles is more comprehensible. For instance, he had me listen to Johnny Cash singing "I Walk the Line." I know this song very well, but I couldn't recognize it (he hadn't told me what he was playing) because of the pitch distortion. But when I saw Cash singing it with subtitles, I heard not only the words but the notes, and I remembered if not heard the sound of his voice. So that's a new way to appreciate music.
I've also started listening to music with a strong beat, because rhythm is the least affected element. So R&B, some jazz, some of the old rock and roll classics are all still enjoyable. Pandora is a godsend, because once it figures out what you want to listen to (i.e., music with a strong beat) it starts selecting songs for you. If you "thumbs down" one, it knows it's going in the wrong direction.
I've always thought that if I could start life over again—and maybe inherit a few musical genes—I would be a musician. One of the biggest challenges in the cochlear implant field now is to make an implant that allows the user to appreciate music. The focus for so long was on comprehending speech that music was put aside.
Researchers are now turning their attention to music. Patrick Donnelly, formerly at the Peabody Conservatory of Music, and Charles Limb, who has a joint appointment at Peabody and in the department of Otolaryngology–Head and Neck Surgery at Johns Hopkins, assessed the challenges of music perception for people with cochlear implants in a recent article. They concluded that improvements in matching and processing pitch in the implant electrode, the ability to retain some residual hearing in the user, and an understanding of the importance of training the implant user to relearn to hear music should combine to produce major improvements in the music listening experience.
Something to look forward to.
Guest Writer Katherine Bouton profiles a number of musicians with hearing loss in
Shouting Won't Help
. Their stories are set apart from the text as "Voices." Also recommended, for amateurs who want to find a way to listen to music again, is a blog post she wrote recently:
Unheard Melodies Can Still Be Sweet
. It offers some specific suggestions for listening to music after hearing loss. Katherine Bouton is a former editor at
The New York Times
, where she worked for
The New York Times Magazine
and
The New York Times Book Review
, as well as the daily Science and Culture desks. Her nonfiction has appeared in
The New Yorker
,
The New York Times Magazine
, and many other magazines and reviews. She is currently a regular reviewer and contributor to Tuesday's Science Times section.
Copyright © 2018 Nancy M. Williams. All Rights Reserved.