Inaugural Conference for Musicians with Hearing Loss
AAMHL to Host 2015 Conference in Washington D.C.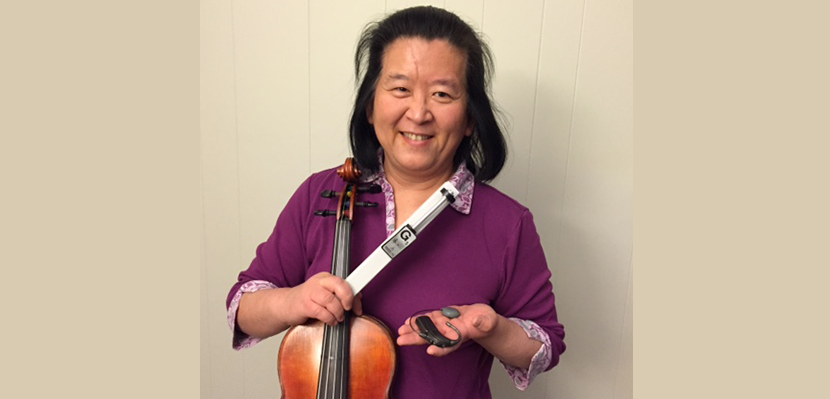 G
rowing up in North Carolina in the 1970s with a significant hearing loss, I knew I was different from my peers in public school. I fretted about having a hearing loss and also being an an athletic klutz who was always the last person to be picked for sport teams. I never dreamed that my hearing impairment would someday lead to one of my greatest accomplishments, founding the
AAMHL (Association of Adult Musicians with Hearing Loss)
, and that in May of 2015 we would hold our inaugural conference. During my childhood, I heard and read about hearing-impaired peers making names for themselves by excelling in sports and visual arts. Yet I was intrigued with music. My mother arranged for me to take classical piano lessons as a child and I started violin lessons in college. I even passed a musical aptitude exam that would have allowed me to participate in junior high school band.
However, I had no real role models. There were no fellow hearing-impaired musicians to commiserate with me on the problems of following a teacher's instructions in recorder class as she walked around the room with her back turned, or coping with a high school choral director's curt assessment that I was absolutely incapable of singing in tune because of my hearing loss, not to mention her admonition that I should not try to sing, but mouth the words instead.
I lost the remainder of my hearing when my eldest daughter was not quite two years old. I wanted to be able to hear her voice, and began looking into getting a cochlear implant. Cochlear implant audiologists told me that the first priority for programming speech processors were for speech perception, and that music perception with cochlear implants was not seen as a priority in the hearing health care field. No one seemed to take seriously the problems and needs of hearing-impaired adults who not only appreciated music, but also desired to integrate music in their lives by playing or performing music.
My experiences led me to form the Association of Adult Musicians with Hearing Loss in 2001. Our members exchange information on making music with a hearing loss, discuss strategies on integrating hearing loss into our musical lives, and network with other musicians with hearing loss. Audiologists and music educators interested in working with hearing-impaired music students also join us. Ten years after our founding, the AAMHL published
Making Music with a Hearing Loss: Strategies and Stories
, a book as much for as about our membership. I was further delighted in 2013 when we released a CD,
Hear This!
Our Association will hold our inaugural conference in Washington D.C. on May 29–30, 2015. Attendees to this hearing-accessible conference will be inspired by musicians who have integrated hearing loss into their musical lives, learn more about useful assistive technologies for playing or performing music with a hearing loss, and develop skills for managing stress with a hearing loss. Last but not least, we all will have opportunities to play music for one another.
Do join us for this special gathering of kindred souls who, despite hearing impairment, share our mutual passion for making and performing music.
Part of this article has been excerpted from the Foreword of Making Music with a Hearing Loss: Strategies and Stories. Reprinted by permission.
Guest Writer Wendy Cheng is the founder and president of the Association of Adult Musicians with Hearing Loss. She lives in Gaithersburg, Maryland, with her husband and two daughters. When not involved in musical pursuits, she works as the system librarian for the U. S. Food and Drug Administration in Silver Spring, Maryland. She is currently trying her hand at directing a chime ensemble at her place of employment while continuing her viola lessons.
Copyright © 2018 Nancy M. Williams. All Rights Reserved.