Amateurs and Professionals Perform Together in New York
Hats Kageyama and His Passion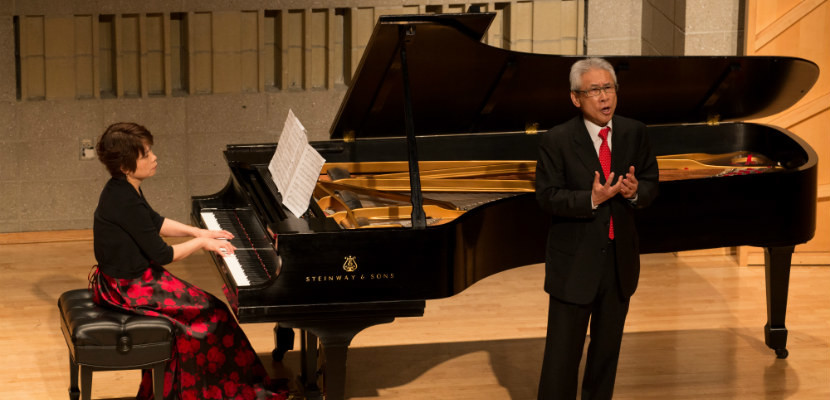 Toshiko Nishino on piano and Hats Kageyama singing.
A
n all-ages concert in New York City on November 21 will have an eclectic roster—a mix of amateur, professional, and semi-professional pianists and singers who all have one thing in common: their passion for music. Hatsuhiko ("Hats") Kageyama, himself a vocalist, is organizing "Hats & His Friends in Concert" as part of his role with H&K Arts Management. We spoke with him about the concert and his
passion
for supporting musicians of all types.
Hats & His Friends in Concert
Baruch College
Engleman Recital Hall
55 Lexington Ave., New York, NY
3:00pm, November 21, 2015
When and why did you begin organizing concerts?
My organization H&K Arts Management Associates, LLC, was established in 2003 with the mission of providing opportunities to talented people regardless of age, nationality, gender, and specialty. Since its establishment, H&K Arts has produced operas and concerts including classical/jazz singing and performances by pianists, violinists, erhu players, orchestras, etc., at venues in Taiwan, Beijing, Tokyo, Seoul, New York, and Philadelphia. This is the fifth time H&K Arts will be presenting "Hats & His Friends in Concert."
Does H&K Arts Management do both professional and amateur concerts?
Yes, mostly professional and semi-professional (such as students at music school who aspire to be professional). But the Hats & His Friends concerts in New York are a combination of professional and amateur performers. I want to show the audience that amateurs and professionals share the same level of passion for music!
For the concert on November 21, could you give me a feel for the range of performers and what they will be performing?
We will have three vocalists, including myself, and four pianists. The singers include one professional, one semi-professional, and one amateur performer; and the pianists include one professional, two semi-professionals, and one amateur. They will be performing works by Mozart, Chopin, Liszt, Gershwin, Puccini, and more.
Can you talk more specifically about your passion? Is it both for singing and for promoting other artists?
My passion is for both supporting artists and singing myself. I feel there is a huge divide between being "up on stage" and "in the audience." You really have to commit yourself to being "up on stage" with no assurance for the future, but so many people are on their way to the stage without any assurance. Why? Because I think the arts, especially the performing arts, are essential to our lives. That's why I feel I need to support them (although my contribution is very small) so that at least some of them can continue to encourage me and all other people to live good lives.
Copyright © 2018 Nancy M. Williams. All Rights Reserved.