The Gift of Arranging
How Learning Chords Led to a New Book of Christmas Carols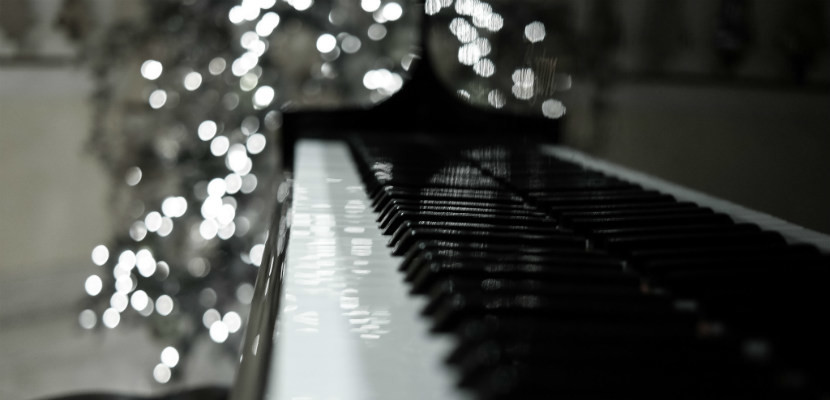 M
y piano instruction during
my childhood
was not classically oriented, but my teacher, Mrs. Day, taught me all of the scales and chords, and how to alter chords to create different effects in music. For years, I felt insecure around other pianists who had been classically trained during childhood. Now, with the publication of my new arrangements of Christmas carols, I understand how Mrs. Day's focus on chords became crucial to me later in my career as a
piano teacher
and arranger.

Several friends of mine also took lessons, but from another teacher who taught mainly classical music. My friends did all the festivals and evaluations and had better technique than I did by far. They also memorized their music, which I had never done—ever.
I was intimidated by these fellow pianists. I tried to learn the pieces they played on my own and figure out how they were doing the things they were without getting their fingers tied up in knots and ending up at the doctor to get them untangled. Somehow, though, I was the pianist in demand when someone wanted to put together a medley or needed an arrangement.
I was also the one who went off to college to major in music. I wanted more. I didn't play a proper audition. I didn't have a piece in each style period. I didn't even know what they were. I had a fancy (I thought) hymn arrangement and the piano version of "Slaughter on Tenth Avenue." Yet, somehow I was accepted and miraculously got the right teacher for me. I found theory remarkably easy because all I had to do was learn new names and a few rules for all those chords I knew. And, I fell in love with classical music and found my calling.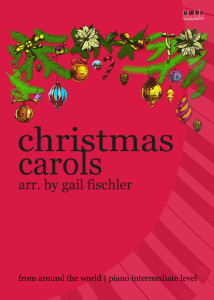 Yet, arranging was not done with me. It came back full force years later with the advent of sequencing using digital keyboards. I love to help students create their own tracks to play along with. It helps them understand rhythm and layers in any style or genre of music.
I also began arranging folk songs from around the world for early level pianists of all ages. I branched out to write my own original pieces based on the scales and forms of world cultures.
Recently, I released Christmas Carols, seven early intermediate arrangements of carols from around the world. Included are favorites and some lesser known songs from France, Ukraine, Poland, Norway, Mexico, Ukraine, and the United States. And those chords from my youth? They, combined with my later classical training and years of teaching, are the bedrock of these carols.
One of my favorite harmonies appears in the Appalachian carol, "And the Trees Do Moan." I used open fifths that move by step to lend the perfect haunting sound. The missing thirds (middle notes of each chord) make it hard to tell for certain if the harmonies are major or minor, which amplifies the effect. The traditional melody is in D Dorian mode (which has no B-flat). I added B-flat chords at strategic points to add some richness and this created another layer of mystery: Is this tune D Dorian or D minor? Are the chords major or minor?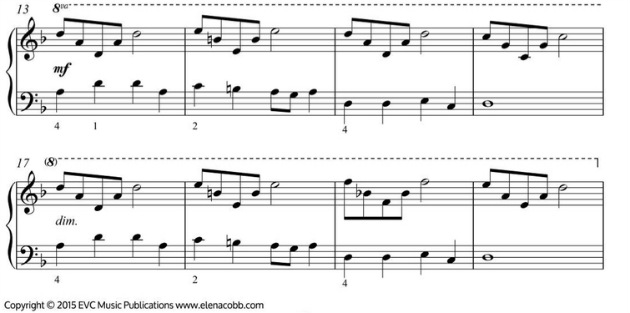 I've heard that everything we do in life is for a reason. During my years as a teenager, when I felt intimidated by my friends who were classically trained on the piano, I couldn't imagine how Mrs. Day's love of chords later would resurface in my work. I see now, as I publish my arrangements of Christmas carols, what an important gift she gave me.
Guest Writer Gail Fischler is the founder of
Piano Addict
, the international blog for piano students, teachers, and avocational players to connect, discover, and enjoy all that is piano. She is the author of
Christmas Carols: From Around the World
(EVC Publishing) and co-author of
Latin America
(Piano Accents). Gail currently teaches private and community class piano, as well as a Pedagogy/Literature seminar at Eastern Arizona College in Thatcher, Arizona, and maintains an independent studio in Tucson. Visit
Sheet Music Plus
for her Christmas carols and other currently available piano arrangements.
Copyright © 2018 Nancy M. Williams. All Rights Reserved.