Composer Notes: The Schumanns' Dual-Career Marriage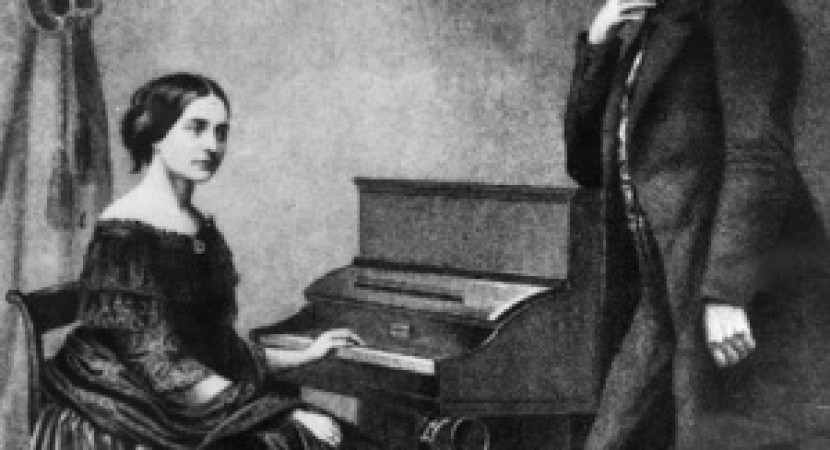 Popular media, such as the movie Spring Symphony, emphasize that once Clara Wieck married Robert Schumann, her career as a concert pianist fell by the wayside. Clara's new roles as wife and mother—the Schumanns had eight children in thirteen years—certainly crimped the robust performance schedule she had enjoyed under the management of her father, the controlling Friedrich Wieck. Yet after her wedding, Clara continued to concertize, and her tours became one of the lightning rods of the Schumanns' marriage.
In theory at least, Robert glowed about Clara's talent on the piano, and he wanted a modern marriage. At his urging the couple started a marriage diary, in which they were to chronicle "everything of mutual concern to our household and marriage." The joint diary was in keeping with the bold trend in the Romantic Era that men and women should meet each other as equals.
In some ways, their marriage was a satisfying collaboration. At Clara's urging, Robert composed large works such as symphonies and concertos. As for Clara, she deepened her repertoire with classical piano music by the masters, including pieces by her husband, at his encouragement.
Yet Clara's desire to tour challenged Robert to put his beliefs into practice. "Ought I to neglect my talent so that I can serve as your travel escort?" he despaired to Clara in a letter two years after they had married. "Have you or should you let your talent go to waste. . .?" He concluded with his principles: "Yes, it is absolutely necessary for us to find a way to use and develop our two talents side by side."
In the winter of 1844, the couple left their children with Robert's brother and embarked upon a tour of Russia, where Clara often performed the Quintet for Piano and Strings in E-flat major. Robert had written the music, which sounded like a small piano concerto, expressly for Clara so that she could perform in small residences, and he was thrilled with its popular reception in St. Petersburg and Moscow.
Far less endearing to Robert was the treatment he received in Russia. Enthralled with Clara, who embodied the new phenomenon of women concert pianists, audiences flocked around her, pushing Robert aside. Unable to come to terms with his jealousy, he complained of insomnia and anxiety, while Clara pushed on, performing to admiring audiences and raking in 5,000 thalers, a substantial sum for the time. This dynamic had become a pattern in their relationship. When they returned from Russia, the marriage diary fell by the wayside.
Despite the acrimony and arguments that occurred during Clara's tours, the Schumann's remained married and devoted to one another until his death in a mental asylum in 1856. Their experience hints towards an unattained ideal useful for contemporary couples, in which both the wife and the husband aspire to develop their talents and passions. Both must make sacrifices, yet both ought to gain in essential ways by their cooperation.
Below is Hélène Grimaud on the piano, performing the Schumann Piano Quintet in E-flat major.
The inspiration and quotes for this article come from Peter Ostwald's Schumann: The Inner Voices of a Musical Genius. This biography, extremely well-researched and annotated, traces Schumann's life from birth to death. Peter Ostwald, a former psychiatry professor and an amateur musician, places a special emphasis on Schumann's psychological life, and my only quibble is that occasionally he lingers for too long on diagnosing Schuman's mental disorder.
Copyright © 2018 Nancy M. Williams. All Rights Reserved.