2013 New Year's Resolutions pour le Piano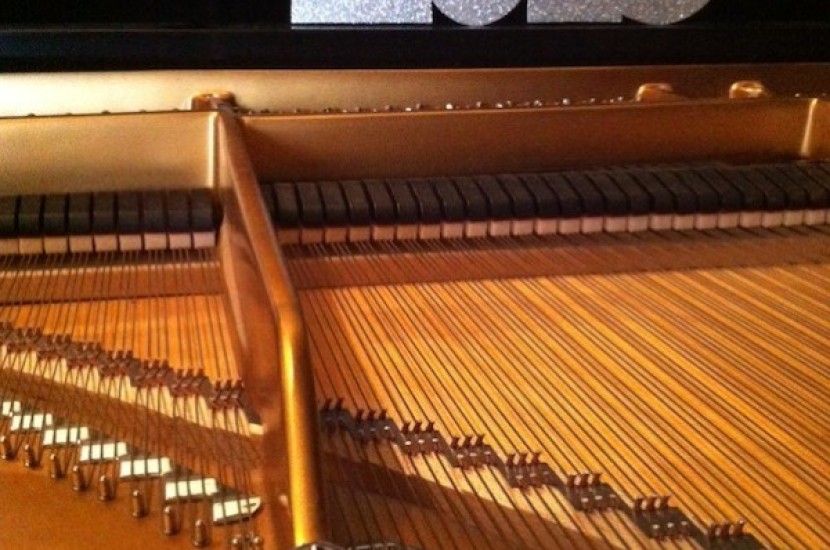 For 2013, I am making five important New Year's resolutions for my piano study.
1) Concentrate on studying with my new piano teacher.
During the late autumn of 2012, I embarked on a two-month search for a new teacher. Beloved as my first teacher is, after seven years of study, I decided I would benefit from a new perspective. I chose a professor at Montclair State University who is a graduate of the Moscow State Conservatory. With our first few lessons mixing pedaling, arm weight, and theory, I have felt elated with all that I am learning. I am looking forward to studying with my new teacher in a concentrated way and seeing where his guidance will help me take my music.
2) Embrace a broader perspective on what it means to practice.
When I first began adult piano lessons, I worried that practicing the piano undermined my family, both by consuming time that I could spend with my husband and children, as well as eating up time that ought to be spent in activities supporting them. The crucible of my line of thinking was that practicing was a selfish act. Now I realize that I must practice the piano in order to be whole, and that by tending to my spiritual needs, I stoke not only my own happiness but that of my family. Still, I am not practicing as much as I intend. How to solve this? In my daily affirmations exercise, I will continue to state that "I play the piano with passion and commitment." I'm also going to follow the advice of time management experts, which leads to my next point.
3) Practice every day, even if for only 15 minutes.
For many years, I have resolved to practice every day, but for 2013, I want to make my approach more rigorous. Productivity experts counsel that if there is something important you need to do every day, do it at the same time every day. In my case, the best time to practice the piano would be noon, after I have taken care of my writing commitments and before my children have arrived home from school. When I am not writing a book, I resolve to practice for up to two hours; when I am writing a book, at most an hour, with the caveat that during certain intense periods on the book, I may be able to practice only for 15 minutes. Several piano teachers whom I hold in high regard, including Matthew Harre, whose studio is two-thirds adults, have given me this advice: if your schedule spirals out of control, grab 15 minutes when you can. The bonus is that a recently published study explains that when you engage in an activity that sparks your interest, such as playing a gorgeous piece of classical piano music, 10 minutes or so actually increases your energy.
4) Continue my emphasis on performing.
Here I'm defining performing broadly, encompassing not just an amateur performance, but also playing in my church or for a practice group of other like-minded adults. As much as I dread the anxiety buildup as a performance approaches, it's difficult to deny two tremendous benefits of performing: first, that preparing for a performance helps to take my music to a new level, and secondly, that the more often I perform, the more bearable the act becomes. For 2013, I'm repeating my resolution from last year, to perform on average twice a quarter, yet this time allowing that performances may bunch at certain times of the year based on my writing schedule.
5) Study Schubert's Impromptu No. 3.
We all have our stretch, dream piece, the I-have-to-learn-this-music piece, and Schubert's Impromptu in G-flat Major is mine. I first heard this music four years before, as I was easing my car parallel to the curb at my daughter's school. Schubert's undulating, conspiring arpeggios and plaintive melody pinned me to my car seat, and I could not get out of my car until I had listened through to the end and learned the name of this bewitching piece. My daughter's first-grade teacher was not thrilled with me for being late. Nor was my piano teacher, later that week, when I insisted on learning the music. His instincts were right: the Impromptu proved too difficult. I could not keep the first few pages current while learning the second half of the music, and my study  folded in on itself, an obstinate black hole. Four years have passed, and my new teacher has agreed we may start work on the Impromptu.
I'm sending good wishes as you think about your goals on the piano for 2013. What are some of your New Year's resolutions?
Copyright © 2018 Nancy M. Williams. All Rights Reserved.