Back to Piano Practice—Now with a Piano
Adjusting to Ownership of a Home and Piano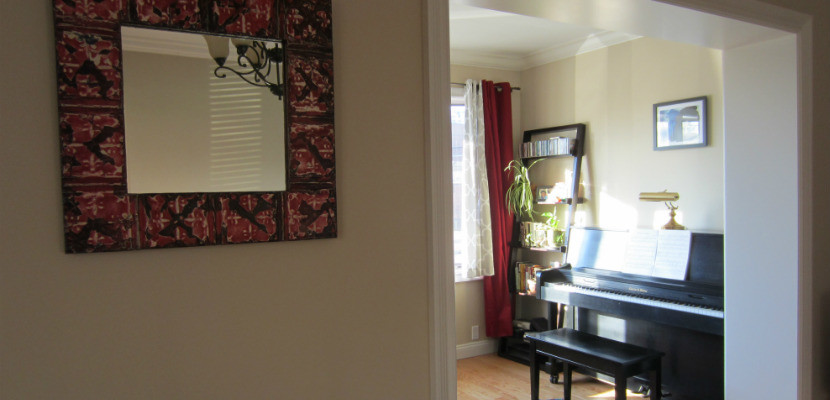 W
hen my wife and I began our house search in the spring, I imagined where my childhood piano might go in each potential living space. My parents, eager to free up space in their house, had offered to ship the piano 200 miles from Boston. During our first tour of a charming but practical brick house, I could immediately picture the piano in the sunroom, flooded with natural light. We would become a charismatic, musical family, spontaneously busting out tunes with our abundant guests, who of course would have just eaten a meal consisting of vegetables and herbs from the thriving backyard.
access to a piano
had been precious. I had trekked on bike or on foot in sweltering or
freezing
temperatures from my apartment to the closest music rehearsal studio in Queens for my scheduled practice sessions; and packed sheet music with me when I visited family or friends who had a piano or keyboard. So now the delivery of the piano was my most Instagram-worthy moment of the year. I ran my fingers over the keys, relishing the fact that the upright was here to stay.
I spent the first month in our new house calling insurance companies, making unrealistic wishlists of dining room and patio sets, and trying to suddenly become an expert in drywall anchors and fuse boxes and AC vents. With the piano waiting in the sunroom all the time, I felt no urgency to use my practice time wisely as I had at my paid practice sessions at the rehearsal studio. After more than a month, I could still barely stumble through a Debussy prelude that I had played as a kid. I felt that I had slipped backwards.
The piano sat in the corner intimidating me, just like the overgrown strip of old garden in the back.
The piano sat in the corner intimidating me, just like the overgrown strip of old garden in the back. Instead of that dynamic family I'd envisioned, we were in danger of becoming those people who have the luxury of owning a piano but don't even play it; who have space for a yard but don't spend any time in it.
I decided to assert authority over the forest of weeds in the backyard. While I slapped away at the attacking mosquitoes, I glanced anxiously at the completely dead tree that leaned over the fence into the neighbors' yard: How were we going to dismantle it with no tools and a dwindling bank account—and then what would we do with all those dead branches anyway?
Then one day, taking a break from my freelance work, I snapped a few branches off the dead tree. In a stroke of luck, a contractor had left us an extra garbage can, and I shoved the branches in with self-congratulatory gusto. Over the next few weeks, I began to snap off branches one by one from the dead tree, and before I knew it, the garbage can was full. A few more weeks and a few more trips to an organic waste yard later, and all that was left of the dead tree was a twisted stump and roots.
With a few of these small victories under my belt, I found myself inspired to re-watch Benjamin Zander's TED talk on Chopin's Prelude in E Minor. Using this short Chopin piece, Zander demonstrates how to make classical music more compelling to everyone.
I sat down at the bench to learn the one-page prelude, and soon was engrossed in experimenting with the wistful pull of the melody and harmony. The act of being able to manipulate tempo and dynamics to make the music feel a certain way offered relief from the chaos of first time home ownership.
I had to put aside my perfect vision of our new lives.
I started to practice piano for 20 to 30 minutes in the evenings, when my wife was preparing for the next day of work and we wouldn't be wasting time by not installing blinds or tracking down plumbers. And if my right hand was tired from clicking a mouse and scribbling notes all day, I could focus on improving the left-hand parts, which usually needed more attention anyway.
I had to put aside my perfect vision of our new lives. Practicing the piano amidst my work responsibilities and my dozen to-do lists for the home often felt as insurmountable as getting rid of that old dead tree leaning into the neighbor's yard. But I would just keep plugging away. I would take my piano practice time day by day, branch by branch.
Copyright © 2018 Nancy M. Williams. All Rights Reserved.