Stop Wasting Time at the Piano
Track Piano Practice Time and Tempo in the Music Journal App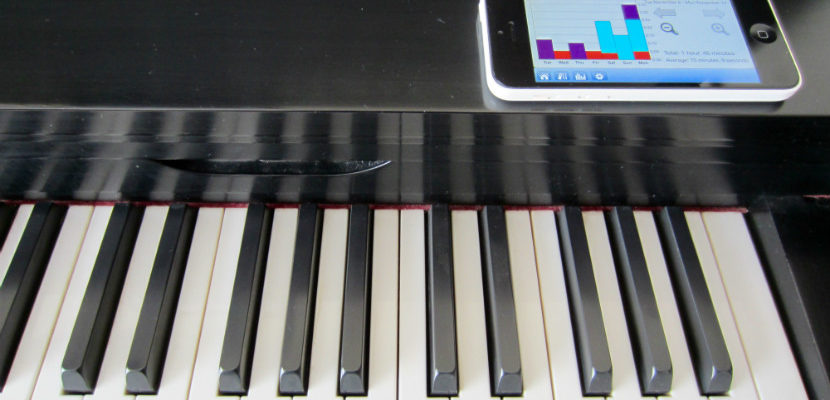 Viewing a graph of practice time in the Music Journal app.
Note: The Music Journal app is unfortunately no longer available. Please leave a comment below if you know of a similarly useful app.
H
ow do you make yourself get some real work done during your piano practice sessions? You finally get to sit down and play, but then you reach for easier pieces you've already mastered—or you lumber through a more difficult piece at the same slow, comfortable tempo.
scale
, or exercise you want to work on, then provides ways to track your progress and time spent on each.
After you enter the name of a piece (or scale or exercise), hit the play button when you start practicing that piece in order to track your practice time. You can color-code songs on the app so that you can assess how much time you're spending on, say, nostalgic pieces from childhood as opposed to your B-flat major arpeggios. Visualize it all on the helpful bar graph that tracks your overall data for each day. There are also song-specific graphs that show your progress on a particular piece.
Music Journal is especially useful for those of you who want to concentrate on increasing tempo. For each piece listed in the app, you can enter the appropriate BPM (beats per minute) and click on the metronome button to hear the beat. You can set the BPM goal for each song, and watch as the app tells you how much you've sped up from one practice session to the next.
By focusing on single pieces, the app encourages you to spend your practice time on what needs to get done, so that you don't feel aimless next time you sit down at the bench. Creating folders can help you categorize your pieces in a strategic way: try folders like "To Memorize" and "To Play Faster"; or "Weekday Practice" and "Weekend Play." You can also type in notes for each piece, to remind yourself what to work on next time.
If the colorful graphs aren't enough to motivate you, daily or weekly summaries are easily shareable so you can email your practice times and tempos to your piano teacher or your New Year's resolution buddy. The Music Journal app helps you zero in on the work you truly want to accomplish at the piano.
Copyright © 2018 Nancy M. Williams. All Rights Reserved.