Yuja Wang plays Schumann's The Smuggler.
If you've ever listened to a professional recording of a piece you've been working on for your piano lessons—say Yuja Wang playing Schumann's The Smuggler—you've probably been struck by the obvious: she plays the piece way faster than you do. She plays some passages so fast you can barely process the notes and rhythms in order to see how you should practice.Enter the Amazing Slow Downer app, which makes it easy to play any recording at, well, a slower speed—without the distortion of pitch that you would experience on conventional audio equipment.
When replaying a song in the app, use the speed slider to slow down to 25 percent or speed up to 200 percent, or anywhere in between. You can also choose to display the tempo in beats per minute (BPM) by tapping the word "speed." This way, you can determine what your BPM goal should be for the piece, or simply get used to hearing the music at a slower or faster tempo.
Besides speed, the Amazing Slow Downer also lets you change pitch, with a similar slider control. This feature might be handy if you ever need to transpose a piece into a different key. It may even be a useful tool for those with hearing loss concentrated in high or low frequencies—for example, you could replay the recording an octave lower to avoid those hard-to-hear upper ranges.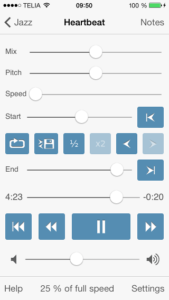 Once you've set the speed and pitch, you can try the looping function to listen to or practice along with a certain segment of the music, repeatedly. Maybe you want to zero in on a tricky trill or a confounding three-against-two rhythm. Tap the loop icon, then adjust the "start" and "stop" sliders to choose your desired section. Don't forget to save the snippet if you want to use it again later.
Most mp3 and audio files will play in the app, unless they are DRM protected files (meaning that most songs purchased on iTunes during the years 2003–2009 won't work). You could even upload recordings of yourself playing and listen back to them at faster or slower speeds or in different keys. It's easy to import song files from Dropbox, iCloud, or Google Drive, and if you have a Spotify Premium account, you can integrate the app and play songs from your Spotify playlists.
To try out the Amazing Slow Downer app for free, download the Lite version, which only allows you to play one-quarter of each recording, up to a maximum of two minutes. The full version ($14.99) has the same features, but plays each track in its entirety, and is available for iPad, iPhone, and iPod Touch, as well as Android ($9.95) and Amazon Kindle ($14.95). The app was created by a former guitar player who heads Roni Music, a company specializing in music software.
The Amazing Slow Downer is a seemingly simple tool, but it opens up a host of creative solutions for both practicing and listening—because, let's face it, hardly any of us can play as fast as Yuja Wang.