Hearing Health Affirmations from a Singer
Positive Statements from a Mezzo-Soprano with Hearing Loss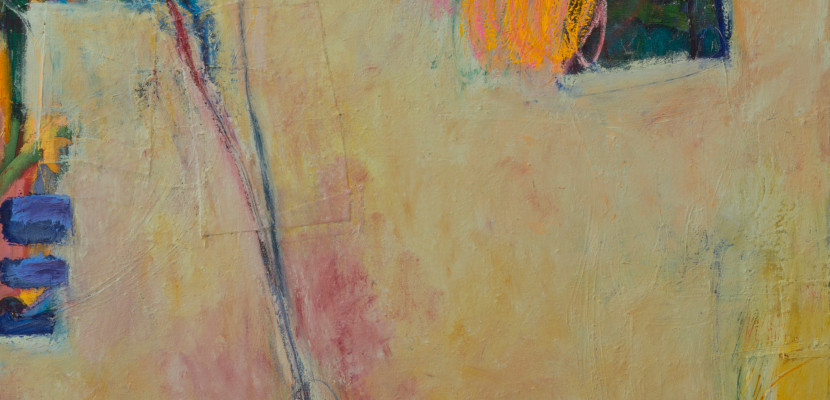 "Divine Fragments and Diverse Changes, no.3," oil and collage on canvas, by Contributing Artist
Leya Evelyn
.
A
s a child, while my friends gathered rocks and leaves, I collected inspirational sayings. As an adult, I would recite one of them when I had a bad day. Eventually I posted them one at a time on my bathroom mirror so that I would see the saying before I left the house in the morning and went to bed at night.
When I went through a complicated and painful divorce, a friend suggested I write affirmations. I took those inspirational sayings from my bathroom mirror and personalized them into affirmations, positive statements about myself. The affirmations made it easier for me to navigate my situation.
After my divorce, I did not use affirmations for a while. But I was intrigued when I read Wendy Cheng's affirmations on hearing health that she posted on the website for the Association of Adult Musicians with Hearing Loss. Wendy had been inspired by Nancy M. Williams's hearing health affirmations and encouraged the AAMHL members to read them.
Here is my list of affirmations specifically for my role as a mezzo-soprano with hearing loss.
My ability to hear is currently stable.
Over the last three years my audiograms have shown the same level of loss. This makes it much easier to accommodate and adjust for my current level of "normal."
I can hear myself.
This is a blessing. Since roughly half of my hearing loss is conductive, it gives me an edge to hear "inside my head." This means, even if I cannot hear anyone or anything else, I can hear me. If I do become deaf, I will still be able to hear myself sing, at least at some level. That means that music in some form will always be a part of my life.
I can hear all of the notes on the piano, and many of them are tonal.
This is useful for both singing and for playing the piano. The nice thing about playing the piano is that I can always play something from the bass that I cannot hear, up an octave or two, and then transfer it back down to the bass. My brain seems to "remember" what it is supposed to sound like. For voice, I can now successfully match my voice to the piano even when it is an octave or more below middle C and the piano no longer sounds tonal. I somehow "feel it" in my throat and pitch if off of the last sound I was able to hear.
I have a supportive voice teacher who enjoys working with me and is able to show me, visually and through touch, how to sing and to pronounce words.
He is not afraid to challenge me and does not believe that, because of my hearing, I should not take on completed pieces or songs in other languages, even if he must fully write out the entire diction.
After two years of voice lessons I have been able to fully recalibrate my voice and my speech.
My "severe to moderate" loss became "severe to profound," yet I can now confidently accommodate all of the pitch changes and tones I was able to do 10 years ago and to adjust voice quality when prompted by my voice teacher.
I am able to bless others with my music.
I don't have many occasions to sing, but when I get called, it is usually for funerals. I always pray before I sing that God will make sure each individual hears what he or she need to hear to be blessed. There are times I have no idea how well I performed, but someone will come up to me afterward and say that it was just what they needed.
Guest Writer Dawn Mollenkopf is an associate professor at the University of Nebraska at Kearney where she directs both the online and face-to-face programs for the Early Childhood Inclusive endorsement. She is also the lay leader for the Central Nebraska Jewish Community and gets called to sing for services, funerals, and other special events. When she is not at work she enjoys playing the piano, cooking, gardening, and remodeling her 1920s house.
Contributing Artist Leya Evelyn is an abstract painter who exhibits extensively in galleries across Canada, the U.S., and Europe. She may be found at at www.leyaevelyn.com.
Copyright © 2018 Nancy M. Williams. All Rights Reserved.