Creating the Layers of an Intricate Painting
An Exploration of Contributing Artist Annika Connor's Process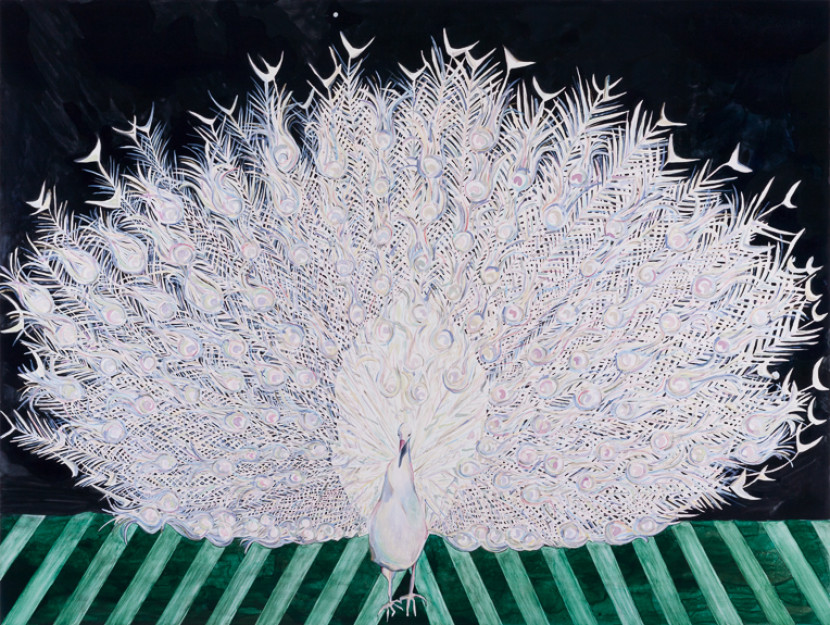 Augustus
, a 36″ x 48″ watercolor by Contributing Artist
Annika Connor
.
Editor's Note: Painter Annika Connor has been a Contributing Artist to GRAND PIANO PASSION™ for the last two years. This article is the first in a three-part series that will uncover the process of how her works are created. ​We first showed her watercolor Augustus as an accompaniment to Mary Jo Balistreri's spellbinding poem, "The Minute Waltz".
* * * *
P
eacocks have always suggested to me music, beauty, and dance.
My paintings
develop in many layers, but they almost all start with my first sketch of​ the image. For this painting,
Augustus
, of an albino peacock, it was important that I be very deliberate about the paint I put down. Since I was painting in watercolor, the white of the page eventually provided me with the foundation of my form, and the piece was carved out from the canvas by first drawing in my image and then painting the negative space in black, as you can see here.

After that, I began to finely layer in the color using both regular watercolor and metallic watercolor and gauche to create a shimmering effect and a range of color. As you can see here, I used very fine brushes to do this.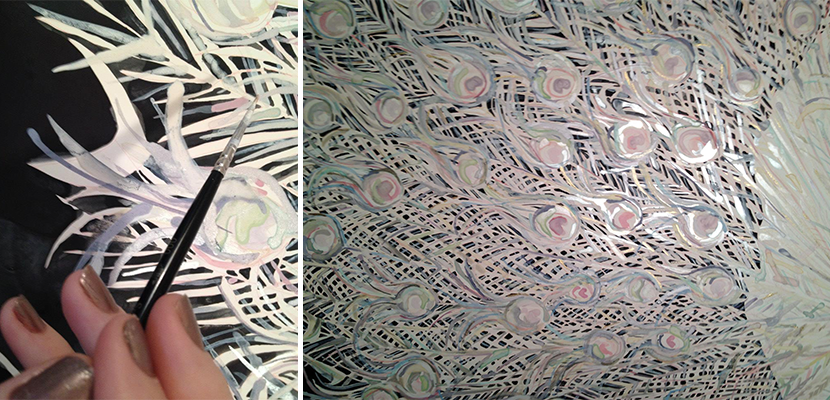 Finally, after many hours of work and many layers of paint I have created my final image, my painting Augustus.
This piece was completed in the fall of 2012. In the summer of 2013, I first exhibited Augustus at my solo show in East Hampton at QF Gallery.
Like all of my work, this piece was specifically designed to engage with viewers' imaginations. A review in Whitehot Magazine recognized the intricacy of Augustus and some of my other paintings: "Animals are treated with the same ornamentation, their coats or feathers becoming somehow ornate, like the richness of the textiles in the interiors she paints."
Contributing Artist Annika Connor is a Contemporary Romantic painter and a Young Fellow of the Frick Collection. Her work depicts a fascination with beauty and decadence. See more of her paintings at
annikaconnor.com
and find her on
Facebook.com/AnnikaConnorArtist
. In 2014, she began transforming her paintings into
art scarves and pocket squares
in partnership with ShawLux. The
Augustus
pocket square is printed on 100% silk and retails for $48.
Copyright © 2018 Nancy M. Williams. All Rights Reserved.