Photo of Mark Brogan © Cindy Dyer/Hearing Loss Association of America.
Captain Mark Brogan lay on the ground of an Anbar province marketplace in Iraq in April, 2006. He had shrapnel in his spinal chord, was missing a third of his skull bone, and had severe arm injuries as well as hearing loss and tinnitus. And yet when he awakened from a nearly three-week coma after the suicide bomber's attack, all he wanted to do was play the piano.
Mark Brogan started piano lessons at age five, after his mother observed him walk up to a piano at his aunt's wedding and put all 10 fingers on the keys in proper form, rather than bang aimlessly like most small children. He began studying classical music and dabbling in pop music. At age 10 jazz became his primary focus, and he dreamt of a career in music.
Instead, at the University of Tennessee in Knoxville, he majored in political science and joined the Army ROTC (Reserve Officers' Training Corps). During Mark's officer training, the war in Iraq began, and by 2005 he was stationed in Mosul in northern Iraq. He experienced three close calls while in Mosul: two detonated improvised explosive devices (IEDs) and a sniper shot that just missed him.
It wasn't until he had moved to Anbar province in western Iraq that he was caught in the explosion that would bring his combat days to an end. Something didn't seem right in the marketplace where he was patrolling that day; it was unusually quiet. Minutes after his second-in-command nervously suggested it was time to go, a suicide bomber walked around the corner and detonated. Shrapnel penetrated Mark's brain and spine, he was bleeding out of both ears, and his right arm was nearly severed.
"I've lost so many things . . . but I can go downstairs and play piano. I can do that."
When Mark came out of his coma back on U.S. soil, he had to wear a helmet for six months while waiting to get custom acrylic plates to replace part of his skull, he couldn't lift his arm above the shoulder, and he had total hearing loss in one ear and needed a hearing aid in the other. He also developed epilepsy. But through a combination of his own grit and the generosity of others, Mark made good on his desire to play the piano.
Playing piano, to Mark, "just feels good, because I've lost so many things. . . . I had a bad day, I'm mad that I can't drive because of my epilepsy, but I can go downstairs and play piano. I can do that." Mark practices at home on a Steinway donated by a philanthropist. The piano bears a small plaque, "We thank you for your service"—Steinway & Sons.
For more on Mark Brogan's remarkable story, read the feature article in Hearing Loss Magazine from September/October 2009.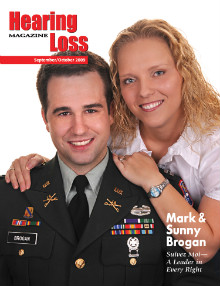 The emotional, therapeutic aspects of playing music outweigh the challenges: Mark cannot hear anything with his right ear, and with his left he can only hear up to an octave above middle C; with his hearing aid on, he can hear a few more notes above that before they all turn into clack, clack, clack. (He sometimes practices pieces an octave lower to hear them better.) In addition, he still has weakness and loss of dexterity in his right arm and hand, while on his left side he experiences hot, cold, and pain sensations.
Besides learning pop covers, Mark has found refuge in composing his own songs, as well as sharing some of his performances on his YouTube channel, Arctic Recon. One particular video (see below), a cover of "Demons" by the band Imagine Dragons, has garnered over 20,000 views—partly because of the way Mark has connected the theme of the song to issues facing veterans. "Every day, 22 veterans commit suicide; 30 percent of veterans have considered suicide at some point," the bold text in his video tells us. Mark dedicated his cover to all the men and women who have served in the military and are struggling with their own demons, and included information about a veteran suicide prevention hotline.
Beyond suicide and mental health issues, another common challenge facing veterans is hearing loss. Mark is part of the 60 percent of veterans returning from Iraq and Afghanistan who have suffered from hearing loss. According to the Hearing Health Foundation, tinnitus is the number one war wound for U.S. veterans, while hearing loss is number two. Mark's goal is to inspire and empower other veterans with hearing loss, and he has already begun doing so by speaking about his experiences, as well as following his passion of playing the piano.