At eight years old, Jennifer Castellano learned that she had perfect pitch—and found out that she needed hearing aids for a mild to moderate hearing loss in the middle frequencies, known as a "cookie-bite" loss. Now as a performing pianist and composer with two original solo albums, she has been featured on classical radio programs and has written music for an orchestra and a music teachers' association.
Jennifer wrote about her unique experiences as a musician who has hearing loss, as well as a lifelong visual impairment caused by endothelial corneal dystrophy, in Making Music with a Hearing Loss: Strategies and Stories. She also serves as secretary of the Association of Adult Musicians with Hearing Loss (AAMHL), a nonprofit organization led by Wendy Cheng.
Leading up to AAMHL's 2017 conference for musicians with hearing loss (July 13–16 in New Jersey), we talked to Jennifer about her music and how AAMHL has been a part of the journey.
How have the challenges differed between having a hearing loss and having a visual impairment?
My vision is much like my hearing. Even with corrective lenses, my visual acuity is 20/300. I cannot see things far away, but if I am up close I can see fairly well. Without my hearing aids I can't hear too much, but if the sounds are really close to my ear, I can make them out.
But I can tell you that I have gotten two completely different reactions. Since I was small, there were always resources made available to help me overcome my visual impairment. However, I was given no resources to help with my hearing loss.
I didn't begin to talk until I was three-and-a-half years old. When my parents took me to a speech therapist, she advised that I would begin speaking when ready. My parents thought I was a late bloomer. They didn't consider hearing loss at that point because they were so focused on my vision problem.
My mother spoke much louder than the average person (she claims it is because she is from the Bronx) so that is probably one reason why I was able to fool people for so long. When you have a cookie-bite loss, it is easy to fool people because it's like "oh, but you're hearing these high and low frequencies fine." I never understood too much in the classroom though, especially when classmates spoke. My teachers thought I was spacing out and not paying attention.
I did not have an FM system in school and did not become aware of what an FM system was until I was a second-year grad student. When professors would comment on my piano tone sounding too percussive, I had no clue what they were talking about because I couldn't hear and tell the difference between tone qualities.
I currently wear Phonak Certéna hearing aids in both ears. I don't use any other listening devices when playing solo piano, but if I am playing with other instruments, I may have one of the performers wear my FM transmitter. For example, when guitarist Charles Mokotoff and I played a duet together, he wore my transmitter around his neck and it picked up the sounds of the guitar quite nicely.
What has been your involvement in AAMHL? How long have you been a member?
In 2007, I found the organization by doing a Google search. At the time, I was a second-year grad student who was struggling to hear one of my professors in class and was looking for some resources. My hearing loss was now moderate to severe. It had changed in my early 20s, which is when the tinnitus started to kick in. I wanted to know if there were other living musicians with hearing loss like myself. I contacted Wendy, and the rest is history.
It wasn't until 2015 that I began serving on the board as secretary, so I helped in planning the 2015 conference. We met online at least once a month and discussed how the convention was going to work. We would talk about the equipment we needed to make the event accessible for people with hearing loss. I got to witness all of the hard work Wendy puts into this organization. It is truly amazing what she does.
You played in ensembles with other musicians with hearing loss through AAMHL. What was the experience like?
I played mostly in duos. I played with guitarist Charles Mokotoff, soprano Dawn Mollenkopf, violist Wendy Cheng, jazz singer Mandy Harvey, and violinist Stephen Shey. AAMHL brought us all together for the conference in 2015 and the open mic event at the Hearing Loss Association of America's 2016 conference. We all live in different areas so there was no way that we would normally play together. AAMHL provided a common platform from which we all could perform together.
I don't consider these experiences to be different from the experiences I have had playing with musicians with normal hearing. I have worked with some very fine musicians, some of whom have normal hearing and some who don't. I would say that my more unfortunate experiences came from working with musicians who had normal hearing. It seems that when one is faced with an obstacle such as hearing loss, it not only forces him or her to work even harder, but it also humbles them.
Another thing that people need to realize is that the level of musicianship is not determined by how well a person hears but rather how well a person listens. Just because a person has normal hearing doesn't automatically make them a good listener. When it comes to listening, one must be able to pay close attention and recognize what is happening around them. Having a good musical ear means you have a good memory. I was the strongest student in my ear training classes, not because I had the best hearing but because I have a very good memory.
Lastly, being a good musician requires discipline. I have worked with six different musicians who have hearing loss and all of them are very disciplined. They all were prepared and knew what they were doing, and we had only a matter of hours to prepare for a performance because we all were coming from different areas. We all had to make sure our individual parts were rock solid.
What were some of the highlights of the first AAMHL conference in 2015? What did you gain from it?
I really enjoyed the 2015 conference because I got to meet so many fine musicians and I got to learn about the available resources for people with hearing loss.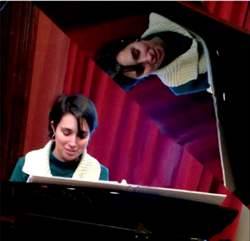 It was nice to finally meet others who had experienced similar things and who understood all too well the preconceived notions associated with hearing loss. In my past experiences, everyone thought that because I wore hearing aids, my hearing was normal when I had them on. Not true. I got to learn how people compensate for their hearing loss and are able to successfully make music.
Probably one of the most memorable experiences, though, was when I met the singer Dawn Mollenkopf, who has a severe to profound hearing loss. And like me, she has synesthesia, a phenomenon in which perception in one sense triggers perception in another. We both perceived music in color and for us, this was a great tool for us in listening to music. Certain colors went with certain musical notes. In my own personal experience, "seeing colors" in response to hearing sound helps me recognize and understand what I am listening to. It is my synesthetic experiences that enabled me to develop a good musical ear because colors served as memory aids. This was my first time meeting a person with hearing loss who experienced synesthesia.
How long have you been composing music? What do you love about composing and what do you hope to express in your work?
I began composing music seriously when I was a sophomore in college. I have gone through different periods of writing. In my early years, my focus was on incorporating visual imagery in my music, thus proving the commonalities between sound and color. My work was influenced by my synesthesia. Then shortly after graduating from college, I adopted two small parrots and soon my music took an avian spin. It was my intention to pay homage to our finest music makers, birds. As of now, I find myself seeking the divine or perhaps something that cannot be understood by the spoken word. My music has always been a bit abstract but now I find that my music simply is what it is, a kind of story of a soul, my soul, striving towards happiness, striving toward heaven.
I can't say I enjoy composing music. Actually the process is quite painful and is a lot like pulling hair. It doesn't come all that easily but once the music is written and gets a performance, it is well worth the aggravation. Writing music is a way to leave something behind for the generations after me.
What was the inspiration for your latest album, Images?
Early in 2015, I made a pilgrimage to the Holy Land with members of my church where we visited various historic and holy places. This wonderful trip was the inspiration behind Images, a collection of seven piano pieces, each inspired by either a specific place, moment, or feeling during my visit. There are other original piano pieces on the CD, three of which were commissioned by the New Jersey Music Teachers Association.
What's next for you? What are you excited about in the coming year?
Well, at the beginning of March I had my first organ lesson. Yup, I am learning the organ. I had played piano for a few masses at my church and enjoyed it. There was no organist available at the time and I didn't know how to play so I played the piano. This made me curious about the organ and so I decided to learn in hopes that I can be a church organist someday.
Jennifer Castellano
was commissioned to write music for the North/South Consonance Chamber Orchestra conducted by Max Lifchitz and was selected by the New Jersey Music Teachers Association as the 2012 Commissioned Composer. Recorded performances of her works have been featured on the weekly radio program Classical Discoveries hosted and produced by Marvin Rosen on New Jersey's WPRB 103.3 FM and Monday Evening Concert, hosted by Tom Quick on Ontario-based CKWR 98.5 FM. Jennifer has performed as a soloist and chamber musician in New York, New Jersey and Washington D.C. and was a featured soloist in the 2008 Summer Concert Series in Cape Cod at the First Congregational Church in Wellfleet, Massachusetts.
Ever been told that you could not play in a high school band or orchestra, or sing in a choir because of your hearing loss? Ever wanted to be among other musicians who could not ignore their deep yearning to play music in spite of having significant hearing loss?The Association of Adult Musicians with Hearing Loss (AAMHL) cordially invites you to its conference for adult amateur and professional musicians who have hearing loss.
The biennial conference will be held July 13–16, 2017, at Kean University in New Jersey. It will feature opportunities to:
Sing in a chorus, develop collaborative piano skills, or play in an instrumental ensemble.
Listen to interesting presentations about music and hearing loss and/or hearing health issues.
Share musical journeys with musicians who have also experienced hearing loss like you.
Kean University's music facilities include practice rooms with pianos.