Amateur pianist Michael Brazile plays the Aria from the Bach Goldberg Variations.
The Aria that opens the famous Bach Goldberg Variations is probably one of the most recognizable pieces of classical music. Thirty-two bars long, it forms the harmonic basis for the 30 variations that follow. Though there is an undeniably satisfying feeling of following the Aria with several (or all!) of the variations, performance by itself is equally enjoyable (in fact, the Aria first appeared by itself years before Bach wrote the Goldberg Variations, in his Notebook for Anna Magdalena Bach).
Selecting a Tempo for the Aria in the Bach Goldberg Variations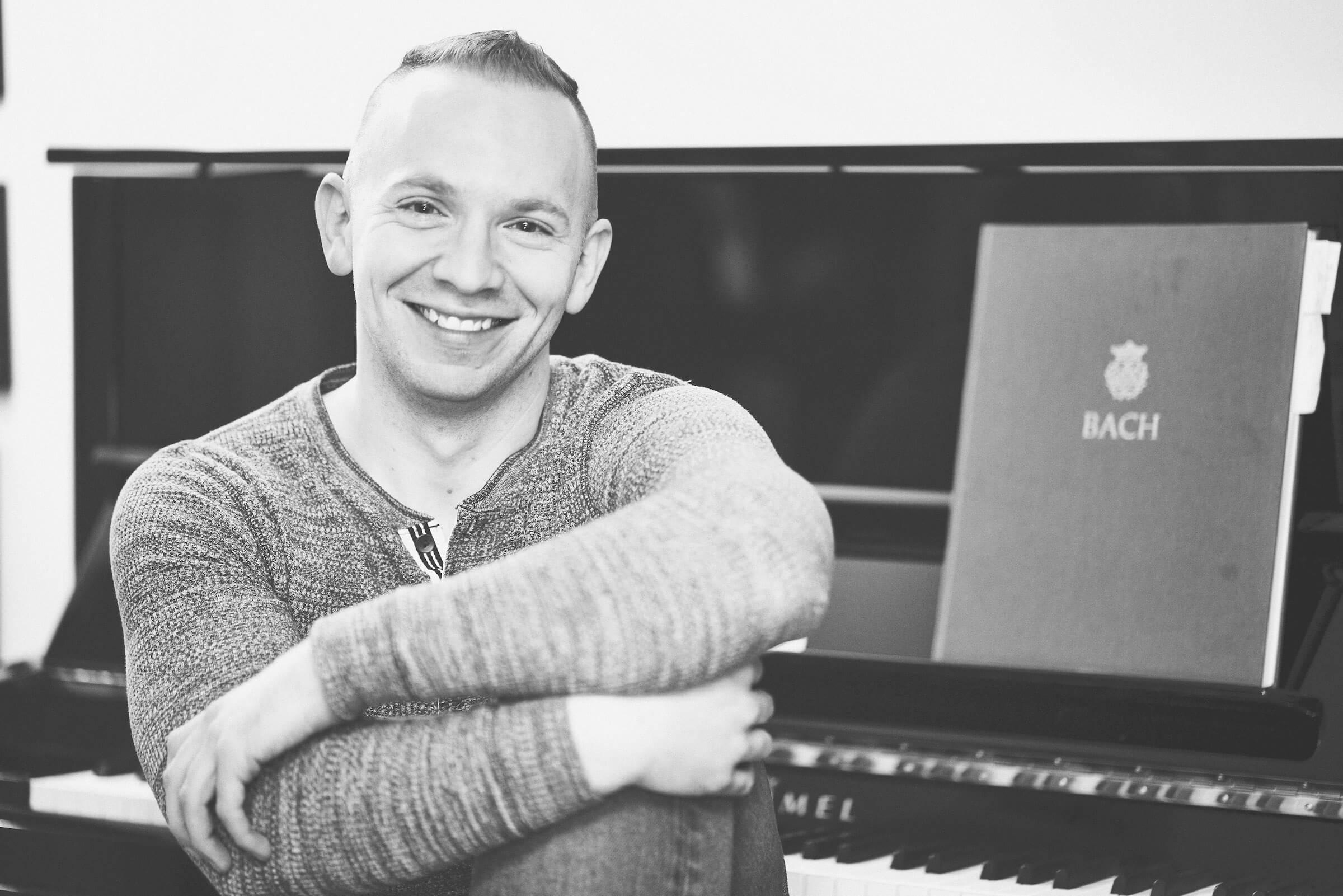 Like all of Bach's music, the opening Aria in the Bach Goldberg Variations can take an almost infinite number of interpretations. And this is a piece for which I think the tempo it's played at dramatically affects the mood and character of the piece.
Played with intentional, almost dirge-like slowness, the Aria projects a mood of the deepest, most serious reflection. And played (like Glenn Gould in 1955) with great speed, the Aria comes off as almost perfunctory. I have chosen a moderate tempo in this recording—which projects thoughtful reflection and emotional probing, but which is fast enough to keep the music full of forward motion. Because there are a large number of ornaments, whatever tempo a player chooses should allow for full and clear execution of them.
Handling Repeats in the Aria
Repeats are another aspect of the Aria that I continue to play with. I rarely get satisfaction out of hearing a first and second half of a Bach piece repeated, even with some extra ornaments on the repeat. A big part of this is that Bach's harmonic language propels the listener forward—it's designed to get you from the beginning to the end in an incredibly satisfying way, so executing a repeat can feel almost fake for me.
There's also the fact that when you have intense or dramatic moments, repeating them waters down the intensity for me. Then again, there are some pieces, such as the first half of the Sarabande from the French Suite No. 5 in G Major, that are just so sweet, I want to experience them again.
For the Aria in the Bach Goldberg Variations, I choose not to play the repeats because I feel a stronger sense of musical narrative when it's played straight through; and because in both private and public performance, I'm usually continuing to the variations after the Aria. In the end, I don't think there's a "must" or a "should" for repeats, except that they should be to the player's taste—just as they were in Bach's time.
| | |
| --- | --- |
| look inside | Bach — Goldberg Variations, BWV 988 Composed by Johann Sebastian Bach (1685-1750). Edited by Dr. Hans Bischoff. Masterworks; Piano Solo; Solo; Solo Small Ensembles. Alfred Masterwork Edition. Baroque; Masterwork. Book. 68 pages. Alfred Music #00-44323. Published by Alfred Music (AP.44323). |