Studying the Viola with Cochlear Implants
Wendy Cheng's Love of Bow-Stringed Instruments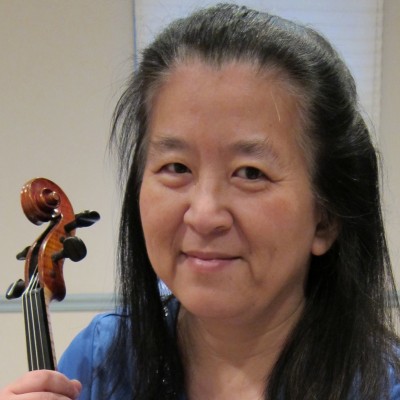 Wendy Cheng with her viola.
I
have always had a deep and emotional connection to aural music. I was born with normal hearing, and my mother said when I was a baby—I was born in Hsinchu, Taiwan—turning music on the radio was a surefire way to calm me down when I cried. All that changed when I turned two and came down with a high fever. I was given a drug to treat the fever, but the drug caused hearing loss in both ears.
My parents discovered the loss after a routine school screening in the third grade, after we had moved to the United States. We now think that on my father's side, there is a genetic disposition toward ototoxicity of specific medications. My left ear was the only ear that had some residual hearing, and I wore a hearing aid in my left ear for some 30-plus years. After I lost the remainder of my hearing in that ear due to a viral infection in 1996, I received a cochlear implant in January 1997. Then in 2010, I went bilateral because I was curious to see how my left ear, with its long auditory memory, would do with a cochlear implant.
My mother loved the piano. So much that all three girls in our family were required to take piano lessons. But the older I became, the more I thought of piano as "Mom's instrument," and I wanted to choose my own. I also felt that playing piano was mostly a solitary activity, and my piano teacher did nothing to encourage me to play piano with others.
I fell in love with the sound of bowed strings in high school, but my parents and piano teacher were all very skeptical about my ability learn a bowed string instrument since the intonation requirements are so high. It was not until my sophomore year in college that I finally began violin lessons.
I took violin lessons almost continuously for the next 13 years, stopping once to attend graduate school. But after I received my first implant, I decided to switch over to viola. I made the switch mostly because with my single implant, I had problems discriminating notes that were higher than two octaves above middle C on the violin. I was determined to advance to the highest level of string playing possible, and I knew that would require being able to play scales in three octaves.
To me, the sound of the viola is now more sonorous and mellow, while the sound of the violin is a little tinny. I also like the fact that I can press a bit harder on the viola strings with my bow. Getting a second implant with a newer processor has provided a greater ability to discriminate tones at the higher pitches and has made the task of learning a third octave a reality. Although it has been said that cochlear implants are not good at providing the pitch perception required to play music, I feel blessed to be able to hear what I can hear now to enjoy making music on the viola.
Over the years, I have enjoyed playing the Minuet from Bach's Suites for Solo Cello (which has been transcribed for the viola), the opening movement of Telemann's Concerto for Viola, and an arrangement of Bach's Jesu, Joy of Man's Desiring. I recently performed a "Fantasy" piece written by the German composer Hans Sitt at my teacher's studio recital. In a few weeks I will be attending an adult string workshop—one of the few forays I have made in playing ensemble music. Needless to say, I am both excited and nervous at the prospect.
If you have a hearing loss, look for ways to keep music in your life. It may not be on the same instrument you played before, and you might find yourself learning an instrument with more percussive than melodic qualities. But keeping the musical connection alive keeps your brain and kinesthetic skills working.
For me, playing and performing music is truly one of life's greatest joys. I cherish each and every day I have to improve my hard-won playing and performing skills.
Guest Writer Wendy Cheng is the President and Founder of the
Association of Adult Musicians with Hearing Loss
. When not practicing music, or working on association projects, she is probably at her day job as a librarian for the federal government. She lives in Gaithersburg, Maryland, with her husband and two daughters.
Copyright © 2018 Nancy M. Williams. All Rights Reserved.