Lazer Tag and Classical Piano Music
Learning to Be a Sight-Reading Warrior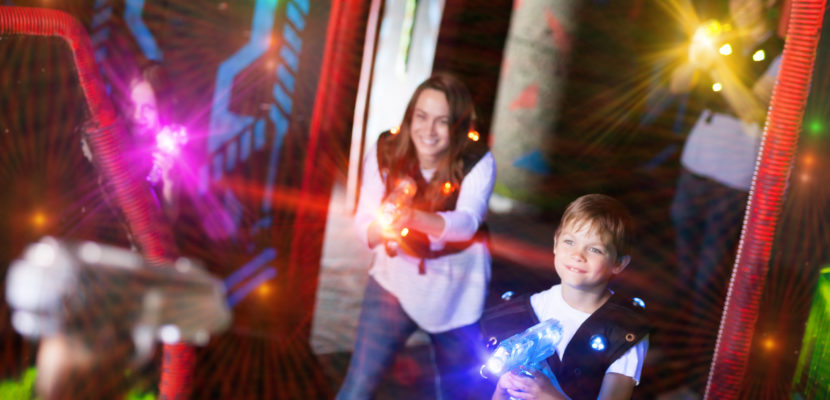 F
or my son Cal's 12th birthday party, I joined him for a game of Lazer Tag. Running through the dark Gothic hallways, unsure of who would be around the corner, felt like
sight-reading
at the piano.
I hadn't planned on participating, but after our high-school aged hostess outfitted Cal and his 15 adorable yet rowdy guests with vests and Lazer guns, she turned towards me. "Party Mom, would you like to play?"
In the black light of the anteroom, Cal gave me a hopeful smile, his teeth gleaming a purplish-white. This might be the last time when my son would want me to join in on a birthday event. "Sure," I said.
I clutched my gun, a T-shaped instrument with a button for a trigger, and dove through the velvet curtain. Once inside, I pressed the button for a few practice shots. When my vest vibrated, tightening around my ribs, I turned around to see who had nabbed me. The dim entrance seemed empty.
Running through the dark Gothic hallways, unsure of who would be around the corner, felt like sight-reading at the piano.
I trotted through the winding hallways, with medieval windows and side alcoves for shooting unsuspecting sixth graders. No one's vest seemed to light up after I pressed the trigger—my aim must be off, I told myself—but my own vest frequently clamped around my torso. The boys' enthusiasm was contagious, and soon I was laughing as I sprinted around corners.
Too bad I could not accept my poor sight-reading technique at the piano with such composure. My sight-reading was abysmal. I easily could spend a half-hour on a few measures of classical piano music, my brain foggy with the effort, my fingers arched with frustration, and the next day not have much to show for my effort.
Recently, at one of my adult piano lessons, my piano teacher Stephen suggested that I lean on a memorization crutch to address my sight-reading handicap. "Look for the patterns and memorize the music as soon as you can," Stephen said. This seemed like good advice, because my ability to memorize is as strong as my sight-reading abilities are weak. At ACMA concerts, for example, often I am the only participant who performs without her music.
At home, I tried this idea on Debussy's Clair de Lune, where contemplative arpeggios arced up the page, and after a week, I could play the section with a halting facility. Yet I still had felt disheartened that I might never become one of those amateur pianists who could glance at sheet music for the first time and then play.
Now inside the Lazer Tag hallways, Cal leapt past me, turned around with a quick coolness, and shot my vest in the upper right-hand corner. "Gotcha," he said. He gave me a quizzical look. "You've got your gun backwards!" he yelled before disappearing around a corner.
Sometimes when we castigate ourselves for a weakness, we blind ourselves to finding a way to make an improvement.
I had been shooting my own vest. Feeling sheepish, I turned my gun around. Now a few of the boys' vests blinked red after I pinged them. I began to shoot with more confidence, stopping in place, drilling my gaze, and pressing the trigger with rapidity.
Maybe I needed to come to terms with my own style as a warrior at the piano. Perhaps I never would be able to sight-read with great facility. Or perhaps sight-reading was a skill that would take longer for me to develop. Sometimes when we castigate ourselves for a weakness, we blind ourselves to finding a way to make an improvement. It was time for Party Mom to lay down her gun.
Copyright © 2018 Nancy M. Williams. All Rights Reserved.