Like so many adults, I thought about lots of different things I would do when I "retired," among them not setting an alarm, traveling, learning Spanish, spending more time with the grandkids—and, oh yes, returning to the piano. I was inspired by Noah Adams's book Piano Lessons and felt that if he could start playing the piano as an adult, I could certainly return to it.
I'd had moderately intense piano lessons between the ages of 7 and 14 and quit while working on Beethoven's Pathétique Sonata. Since my graduate school days, I have known that I wanted to master this piece. I would very occasionally sit down at my childhood piano, which moved with me many times, and play a bit—but when I say "occasionally," I mean years would sometimes go by between instances.
I knew I couldn't (or shouldn't) start right in with the Pathétique Sonata, but I could not resist.
About two years ago, I "retired," which meant I left a fairly intense job with a company for which I had worked for 27-plus years, assumed a half-time position at a local university, took on some writing and consulting, and continued to do college counseling. And … I started back at the piano, lessons and all!
It had been more than 50 years since I'd last attempted to play in any serious fashion. I knew I couldn't (or shouldn't) start right in with the Pathétique Sonata, but I could not resist working on it. I've been working on it ever since, although not with my piano teacher. I play that first big chord, and it brings back those feelings I had at the age of 14 that I was playing something really impressive and dramatic. I love not only those striking chords that open the piece, but also the beautiful Adagio movement that comes much later. I'm convinced my fingers "remember" the notes in this sonata (at least as far as I got with it) but they still stumble over that darn chromatic scale in the 11th measure! But I now have more determination to play the sonata in its entirety, and I have a much deeper appreciation of the structure of the piece. Still liking a piece of music you liked 50-plus years ago seems pretty special.
While Beethoven's Pathétique Sonata has not changed in this time period, pretty much everything else about studying music has. For instance, there are the numerous apps (like Music Journal) that include practice logs and metronomes with all sorts of interesting features (for instance, determining the speed at which you are actually playing) as well as online music readers (like forScore).
I have changed, as well. Adults taking piano lessons play because we like music. We play because we want a diversion from our professions. We play because it keeps our minds active. We play because it keeps our fingers from getting stiff. We play because it's a challenge. We play because we want to.
Playing and studying music helps ensure that aging does not affect individuals' communication.
And the research bears out all of these benefits—and more. For instance, a 2012 study out of Northwestern University found that musical endeavors reduce age-related delays in neural timing. In other words, playing and studying music helps ensure that aging does not affect individuals' communication. Playing a musical instrument can also help lessen pain in patients with arthritis, another 2012 study found. And music, a third 2012 study concluded, can mitigate anxiety.
I have a way to go, but I'm motivated by the fact that Noah Adams, who had no prior piano training, started off wanting to play Schumann's Träumerei. To me, that was a lofty goal; it's not too difficult to master the notes (though not easy, either), but to turn those notes into music is another matter. With practice, I feel confident I can get there, as well. In the process, I'm learning about music—and learning about all the ways to learn about music—and getting closer to achieving a lifelong goal: mastering Beethoven's Pathétique Sonata.
A version of this article was originally published on
Noodle
.
Guest Writer Rita Kirshstein is a Visiting Professor of Higher Education at George Washington University (half-time) and provides college counseling through her business,
College Connections, LLC
.
Piano Lessons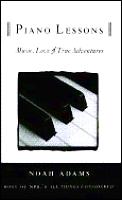 by Noah AdamsHardcover