"She sat down at her baby grand piano and played the most beautiful rendition of 'Misty' I had ever heard," Larry glowed. "It happened to be my favorite song." My husband and I were sitting in an Upper East Side restaurant with Karen and Larry, listening to our friends (married only a few years and relative newlyweds compared to my husband and me) describe their first date. "As I left that night, I kissed her on the cheek and told her I was going to marry her," Larry beamed.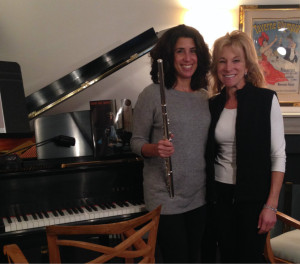 "Aw, isn't that sweet," I said as my husband and I gawked at Karen and Larry like they were some kind of anthropological anomaly. I wanted "in" on this musical love fest.
"We should play together, you know, a flute and piano duet," I said. For the last three years, I had been taking adult flute lessons. Every week I took the bus to the 92nd Street Y for my lesson.
"I would love to play with you; I have some great music for flute and piano duets," Karen said.
As I walked home from dinner I wondered just how good a pianist Karen was. Was I ready for a piano duet? I had only recently learned how to "count" the notes correctly and still struggled with it sometimes.
At home, I googled Karen.
"Shit, she double majored in finance and music in college," I yelled to my husband in the other room.
"So," my husband called back.
"I only majored in finance," I reminded him.
I played the piece with deep emotion, nearly shedding a tear myself. I looked expectantly at my husband.
Karen's and my kids had been friends since first grade and now they were freshmen together at the same college. Karen was one of those people you could easily envy: pretty, a successful business woman, attentive mom, competent golfer, glowing newlywed, and now I could add accomplished pianist. It seems that all this time while Karen had been working and being a good mom, she had found the time to be a musician as well.
That night, inspired by Karen and Larry's "Misty" story, I played "Cinema Paradiso" on my flute for my husband. I played the piece with deep emotion, nearly shedding a tear myself. When I finished, I looked expectantly at my husband.
"Very nice, keep practicing," he smiled.
I wondered what kind of sound my flute would make when it hit his boney head.
A week later, I picked up the faded book Karen had dropped off at my apartment. It read: "Suite for Flute and Jazz Piano, Claude Bolling, Pianist/Composer." A yellow Post-it on the inside cover said "1, 2, and 5." The first, "Baroque and Blue," didn't look too difficult, only one sharp and ¾ meter. I played it through slowly to make sure I knew all the notes. Then I set the metronome to 54 as indicated, but when I played it at that tempo it seemed much too fast. I figured it was a misprint. I would check with my flute teacher, Susan.
The next day at my lesson I pulled out the Bolling and pointed to the 54.
I could hardly follow along as Rampal breezed through the notes, sounding like a bird singing on speed.
"This can't be right," I said to Susan. Susan smiled and pulled out a CD from her expansive collection.
"Listen, this is Rampal and Bolling," Susan instructed.
As I listened I realized the tempo was correct—in fact, it was so fast that I could hardly follow along as Rampal breezed through the notes, sounding like a bird singing on speed. When it was finished, I just sighed.
"I'll never be that good," I whined.
"Lesley, Rampal is one of the best ever," Susan offered.

* * * *
I left my lesson defeated, and wondered why I should even bother playing the Bolling if it wasn't ever going to sound as beautiful as Rampal. The rule-following-good-girl-perfectionist in me whispered that anything slower than 54 would be failing. But then a small knot in my stomach reminded me that I was the girl who balked at a 97 on a test, obsessing over the three points I had missed. I was the girl who practiced my flute so long and hard in middle school that my sister would often have to tear me away from the music to put a cool compress on my sweaty neck. And I became the woman who looked at motherhood like a test to be graded, focusing every ounce of my attention on my children, often at the expense of my writing, my music, my marriage.
I practiced every day, swinging the eighth notes as Susan had taught me. The sound was new and jazzy; I loved it. I even worked up my speed, but any time I approached the 54 tempo, it was messy: I missed notes and gasped for air.
As I unpacked my flute, a flood of excuses flew out of me.
On the day that Karen and I were to rehearse together for the first time, I entered her apartment nervously. As I unpacked my flute, a flood of excuses flew out of me: "You know, I only picked up flute again a few years ago."
Pause.
"I've never played jazz before," I added.
"I think I need a stronger prescription for my glasses," I said finally.
Karen just smiled and played her part beautifully, but much slower than the 54 tempo.
"It's supposed to be faster," I said, sounding like a fifth grade know-it-all.
"Oh, I know, but I can't play it that fast," Karen replied matter-of-factly, and added, "I didn't realize we picked the hardest one. It's like choosing the New York Times as a first crossword puzzle."
That night I left Karen's apartment with "Baroque and Blue" still playing in my head, but this time it was at our tempo, our good-enough, best-we-could-do tempo, and it was beautiful.