Ditching Debussy for the Day
Trading in the Debussy Clair de Lune for a Chopin Nocturne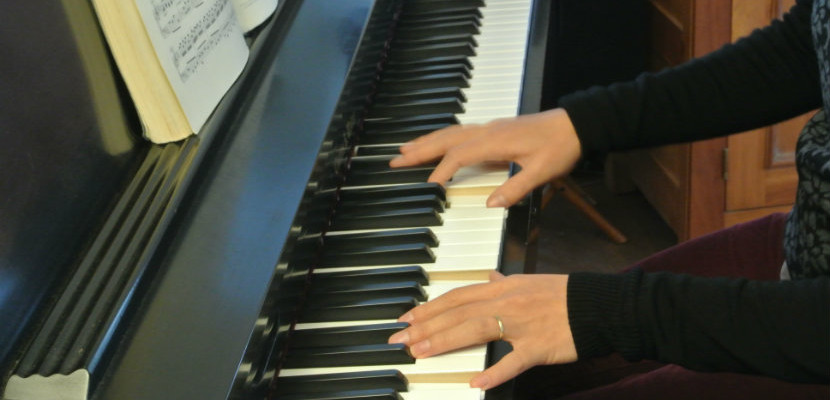 Joanna at the piano. Photo by Glenna Collett.
A
fter playing weakly through all six pages of the
Debussy Clair de Lune
, I stopped and put it away. Although it needed plenty of work, I knew I didn't want to practice the fingering and arpeggios today.
Because I only had this one precious hour—I don't have a piano at home and have been booking space at a rehearsal studio since I recommitted to piano practice—the decision not to make progress on Clair de Lune this week would have its consequences.
The fluttering, pretty music, with its delicate above-the-staff high notes, wasn't going to be enough to satisfy me.
I'd started Clair de Lune with the best intentions, but the fluttering, pretty music, with its delicate above-the-staff high notes, wasn't going to be enough to satisfy me on this ten-degrees-but-feels-like-negative-five day, on this I-wore-two-pairs-of-pants-and-a-polypropylene-undershirt-for-the-fifteen-minute-walk-to-the-music-studio day, on this remind-me-never-to-practice-here-on-a-Tuesday-again-because-someone-is-playing-drums-next-door day.
I needed something deeper, darker, with more intrigue, to compete with the persistent drum set in the next room, and to ensure that I would leave here feeling spurred on instead of frustrated. I paged through my Chopin Nocturnes book, stopping to play through the G Minor (Op. 37), the only Nocturne I had ever learned—savoring the church-like chords and irreverent grace notes, but then quickly moving on… impatiently brushing past the Nocturnes with too many sharps or flats… and landing solidly on the E Minor (Op. 72). I sight-read the slow, constant triplets of the left hand with confidence, jumped into the more varied right hand melody, plowed through the weird accidentals that sounded like nothing I knew—I had never heard this piece before, but I already loved it.
I had never heard my brother play it skillfully, as he did with all the music he touched, while I slogged through homework in the next room. I had never seen a video of a promising amateur pianist or an acclaimed concert pianist performing it. I had never found it on a Google Doodle or my baby niece's naptime recording or a TV commercial.
For the time being, the Chopin Nocturne in E Minor was mine.
I'm not giving up on the Debussy Clair de Lune altogether, but this time I needed a new source of inspiration, a bold and sturdy bass clef to carry me home against the wind.
Copyright © 2018 Nancy M. Williams. All Rights Reserved.