Playing Scared: Getting Over Stage Fright
A Pianist Tackles Performance Anxiety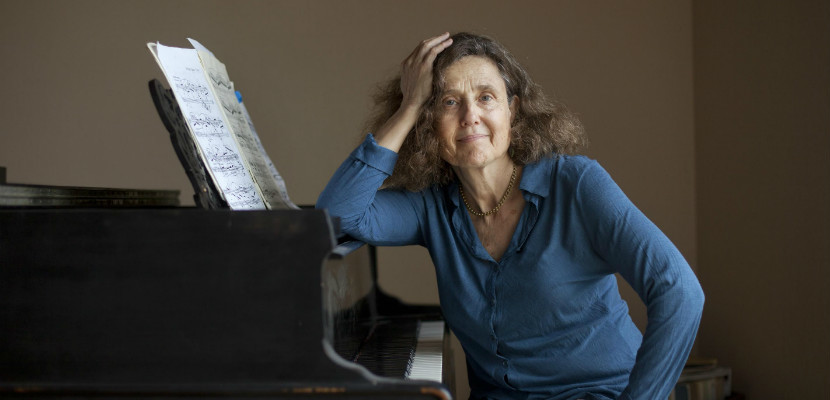 Photo of Sara Solovitch by Patrick Tehan.
F
or most of my adult life, virtually no one—not even my closest friends—knew I played the piano. And that was how I wanted it. Playing the piano had once defined me, but so, too, had my stage fright. I was the kind of pianist who played well when there was nothing at stake: in my parents' house, at my lesson, behind closed doors. But put me in front of an audience and my hands would ice over while some invisible spigot let loose a burst of sweat that soaked my palms and fingers. When I quit at nineteen, my parents protested that I was giving up the best part of myself. You'll go back to it one day, they predicted. When I finally did, more than thirty years had passed. Word got around; my husband bragged about it at the office, and one winter evening in 2011, I found myself at a cheery holiday party, being exhorted to play something, anything, on the host's baby grand. I demurred. The host jovially insisted. I declined. The other guests cajoled. I said no. After opening the piano bench, the host pulled out a book of
Bach inventions
. How about this, he said. Yes, yes, play that, the others chanted. Jump! Jump! was what I heard.
I was fifty-six years old and my stage fright was as fearsome and powerful as when I was fourteen.
Stage fright, or performance anxiety, is both utterly mysterious, an act of mutiny by the mind against the body, and ludicrously commonplace, as ordinary as the common cold. It is the kind of condition for which people inevitably trot out the names of famous sufferers, the way they do for Asperger syndrome or bipolar disorder. As if to say . . . what, exactly? That a diagnosis is not the end of the world? That you or your loved one is in good company? A Who's Who of Stage Fright makes for an imposing roster, one that includes Hugh Grant (who's considered quitting acting), Paul McCartney (who once said he "nearly gave up the Beatles" because of it), and Adele (who has projectile vomited onstage). The guitarist Andrés Segovia confessed that his very bones shook before a concert. He told himself that stage fright was a sign of talent and quoted no less an authority than Sarah Bernhardt. The world's most acclaimed actress was a self-described traqueuse—someone prone to attacks of le trac, or stage fright. So too was the pianist Vladimir Horowitz, who once took a twelve-year break from concertizing. To tame his stage fright, he maintained a rigid regimen on performance days, always eating the same meal of Dover sole and asparagus, which often had to be specially flown in. By one account, three burly men were sometimes required to drag him from his dressing room as he fought, begged, and screamed, before literally tossing him onto the stage. Horowitz reportedly gave some of his finest performances under such circumstances.
Three burly men were sometimes required to drag him from his dressing room as he fought, begged, and screamed.
Stage fright is the great leveler, cutting down prophets, presidents, musicians, actors, dancers, lawyers, athletes, preachers, rabbis, teachers, CEOs, salesmen, advertising reps—anyone who has ever had to stand up in front of a group and do something.
It demanded some kind of reckoning, I found myself thinking as I picked my way through a Bach prelude one evening in May 2012. If I could give myself a year to research the science and psychology of stage fright, try out various therapies, and persuade performance coaches and sport psychologists to work with me, maybe I could beat this thing. I would find a teacher who would not only train me as a pianist, but also help me as a performer. I would practice hours every day, quash my fears, and at the end of the year play a recital for an audience of fifty or more people. The idea emerged full-blown, like Athena from Zeus's head. It terrified me, but I couldn't turn away from it.
From Playing Scared: A History and Memoir of Stage Fright by Sara Solovitch (Bloomsbury, 2015). Republished with permission.
Editor's Note: We were very pleased to cover Sara Solovitch at the beginning of her journey as an adult returning to the piano to conquer her stage fright. Her book about her experiences, Playing Scared, is now available.
Guest Writer
Sara Solovitch
is the author of
Playing Scared: A History and Memoir of Stage Fright
. A former reporter for the
Philadelphia Inquirer
, her magazine stories have appeared in
Esquire
,
Wired
,
Politico
, and many other publications. She has been a health columnist for the
San Jose Mercury News
, worked as a medical writer at Stanford University, and taught profile writing in the University of California Santa Cruz Science Communication Program. Solovitch began studying classical piano when she was seven and attended Eastman School of Music's preparatory department during her last two years of high school.
Copyright © 2018 Nancy M. Williams. All Rights Reserved.