Top 5 on Music and Hearing
Best News Articles in April 2013 for Musicians with Hearing Loss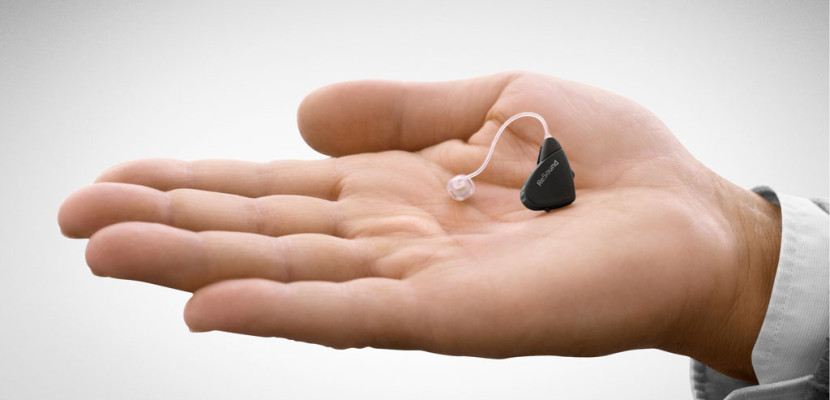 The ReSound Alera, a small wireless hearing aid. Photo by ReSound via
Wikimedia Commons
.
After music writer Nick Coleman suddenly and unexpectedly lost his hearing in one ear, he was worried he would never be able to listen to music again. Read about his story and more in our roundup of news articles in April for musicians with hearing loss.
Hearing Aids for a Composer with a Hearing Loss
An NPR article about recent improvements in hearing aid technology highlighted composer Richard Einhorn's experiences with hearing loss. Einhorn's sudden deafness and hyperacusis made listening a chore, so he invested in state-of-the-art digital hearing aids—which are getting smaller and more precise over time. After using T-coil technology to tune in at a performance of the Broadway musical Wicked, he reports: "I was expecting to have a miserable time and instead I was absolutely enthralled…. It was simply the first time in over a year that I'd been able to enjoy a live musical performance and I was reduced to tears."
How a Deaf DJ Uses Technology
PSFK interviewed Robbie Wilde, a DJ who is completely deaf in one ear and has a severe loss in the other ear. To excel at his craft, he makes use of specialized technology such as SubPac, a device that lets him feel bass vibrations through his body. Plus, "there's all the music in my head from my childhood, before I lost my hearing. That's why you'll hear a lot of tunes from '95 and older in my sets."
A Piano Teacher with a Hearing Loss
Laurie McGarry teaches piano at a senior center in central Massachusetts, despite the fact that she began losing her hearing 20 years ago. Talented at both lipreading and playing the piano, McGarry began to play casually one day at the senior center; the staff was so impressed that she began performing there, and now offers free group beginner lessons. Of her relationship with the piano, she says, "I know the notes. I can hear them. It feels so right."
A Music Journalist Learns to Listen Again after a Hearing Loss
Nick Coleman, a music writer in London, woke up one day with a severe hearing loss in one ear. Along with permanent damage to his inner ear, he experienced extremely unpleasant distortions of everything he heard—his brain simply couldn't handle sound in the same way anymore. Devastated by his condition, he says, "I didn't listen to music at all for a month and I was terrified to see what would happen when I tried." But over the past few years, he has been relearning the art of hearing and enjoying music. Coleman was also featured in Lost and Sound, a documentary film about music and hearing loss that we will be covering later this month.
A Hearing Health Contest Will Result in a Short Film
Congratulations to Paige Stringer, winner of the Art of the Story and Phonak Healthy Hearing contest. Her inspirational story—about her own hearing loss and her work with children around the world with hearing loss (read an unofficial version here)—will be turned into a short film by producer Austin Chapman. According to the press release for the contest, producer "Chapman was born profoundly deaf, but in August 2012, he was fitted with a Phonak hearing aid that allowed him to clearly hear and understand music for the first time in his life."
Copyright © 2018 Nancy M. Williams. All Rights Reserved.